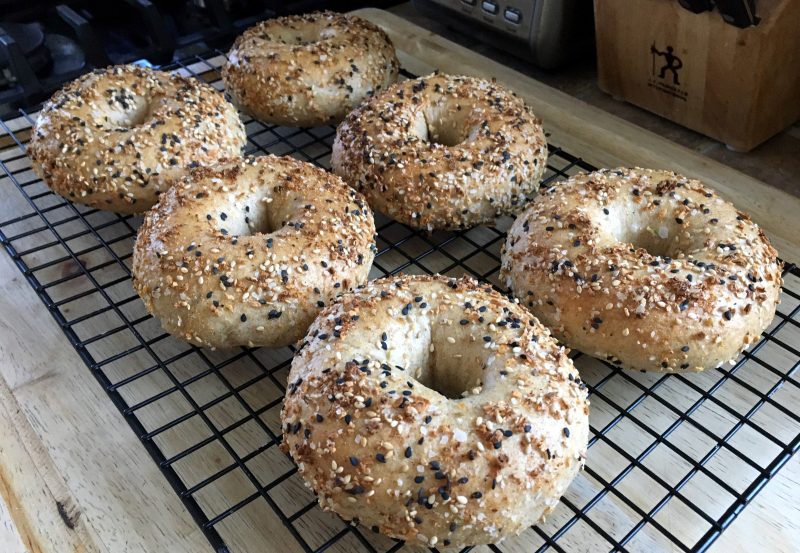 Originating in the Jewish communities of Poland, bagels are a yeasted wheat bread traditionally shaped by hand into the form of a ring, boiled for a short time in alkalinized water and then baked until golden. They can be made plain or seasoned. 
Dough Ingredients
240 grams/ml (1 cup) lukewarm water
1 packet rapid rise instant yeast (2¼ teaspoons)
2 teaspoons organic sugar
400 grams bread flour*
2 tablespoons neutral vegetable oil
2 teaspoons sea salt or kosher salt
*To enrich with whole wheat, use 300 grams bread flour and 100 grams whole wheat flour.
Simmering Bath
3 quarts water
¼ cup barley malt syrup, real maple syrup, brown rice syrup or agave syrup
1 teaspoon baking soda
Optional Toppings of Choice
sesame seeds
poppy seeds
everything bagels: combination of poppy seeds, sesame seeds, dried minced onion, granulated garlic, and coarse sea salt or kosher salt
Preparation
If using, scatter the bagel toppings on a plate; set aside.
Whisk together the warm water, yeast and sugar in the bowl of a stand mixer fitted with a dough hook. Add the flour, vegetable oil and salt and process on low speed until elastic, about 6 minutes. The dough may wrap around the hook while processing; simply stop the motor, push the dough off the hook with a narrow spatula and continue processing. Mixing and kneading can also be done by hand. Shape the sticky dough into a ball and place into a roomy, lightly oiled container, loosely cover and let rise for 1 hour, or until doubled in size.
Divide the dough into 6 roughly equal pieces (for uniformity in size, weigh the dough and then divide by 6). Roll each piece into a ball. To form the bagels, slightly flatten the balls of dough with the palm of your hand. Pick up a portion and poke a hole into the center with a fingertip, then using your forefingers and middle fingers, gently stretch from the interior into a 3-inch interior diameter while rotating the ring of dough in your hand. Set aside on a lightly floured work surface. Repeat with the remaining portions. Shaping takes practice, so be patient with yourself.
Let the bagels rise again for 30 minutes while preparing the water bath.
Bring 3 quarts of water to a boil in large cooking pot and add the chosen sweetener and the baking soda. Preheat the oven to 450˚F/230˚C.
Reduce the boil to a vigorous simmer, add 3 bagels and simmer for 1 minute. Flip the bagels over with a slotted spoon and simmer another minute. Remove with the slotted spoon to a baker's rack to drain briefly. Repeat the simmering with the remaining 3 bagels. When cool enough to handle, lightly press the top and sides of the bagels into the topping of choice and place on a baking sheet lined with parchment or a silicone baking mat. Avoid rough handling to prevent deflation.
Bake on the middle oven rack for 17 to 20 minutes or until golden brown. Transfer to the wire rack to cool completely. Store at room temperature in a sealed bag or container. To serve, slice horizontally through the center. Toast until lightly browned. Top with a "schmear" of vegan butter or cream cheese as desired.