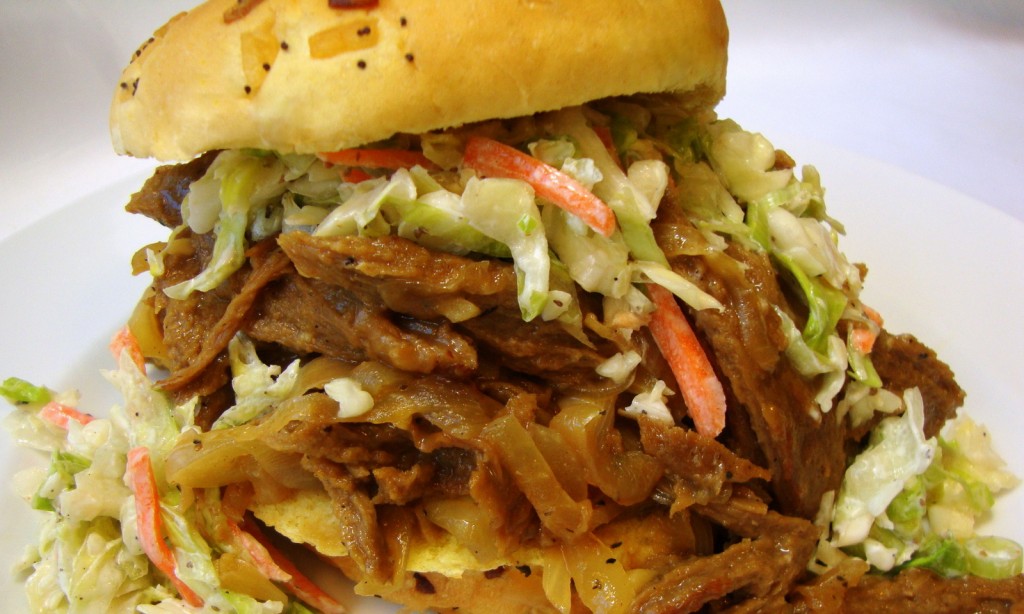 Shredded beaf amazingly resembles slow-cooked shredded beef in texture and is superb for hot sandwiches when finished by skillet braising in a mixture of beer and savory seasonings.
Ingredients
• 1 recipe Stewing Beaf (from the Seitan and Beyond Cookbook)
• 2 T tamari, soy sauce or Bragg Liquid Aminos™
• 1 T Dijon or spicy mustard
• 1 tsp vegan Worcestershire sauce
• ¼ tsp coarse ground black pepper, or more to taste
• ¼ tsp dried thyme leaves
• 2 T cooking oil
• 1 medium onion, halved and thinly sliced
• 4 cloves garlic, minced
• 1 bottle or can (12 oz) beer of your choice
Preparation
Prepare and then chill the Stewing Beaf according to the cookbook directions.
Remove the foil and recycle. Using your hands, bend the roast in half to split it lengthwise; this will reveal the "grain". Tear the roast in half following where it has been split. Bend and tear those pieces in half lengthwise. Now, with your fingers, pull the beaf into long strings or shreds, following the grain as much as possible. Tear those pieces into smaller bite-size shreds.
In a small dish, combine the tamari, mustard, Worcestershire, black pepper and thyme; set aside.
Add the oil to a large non-stick skillet or wok and place over medium heat; sauté the onion until tender and translucent. Add the garlic and sauté 30 seconds.
Add the shredded beaf and sauté, tossing frequently, until lightly browned. Add the tamari seasoning mixture and the beer and stir well to combine. Simmer uncovered, stirring frequently, until almost all the liquid has evaporated but the beaf is still moist. Serve hot as a filling for sandwiches.

Beer-Braised Shredded Beaf