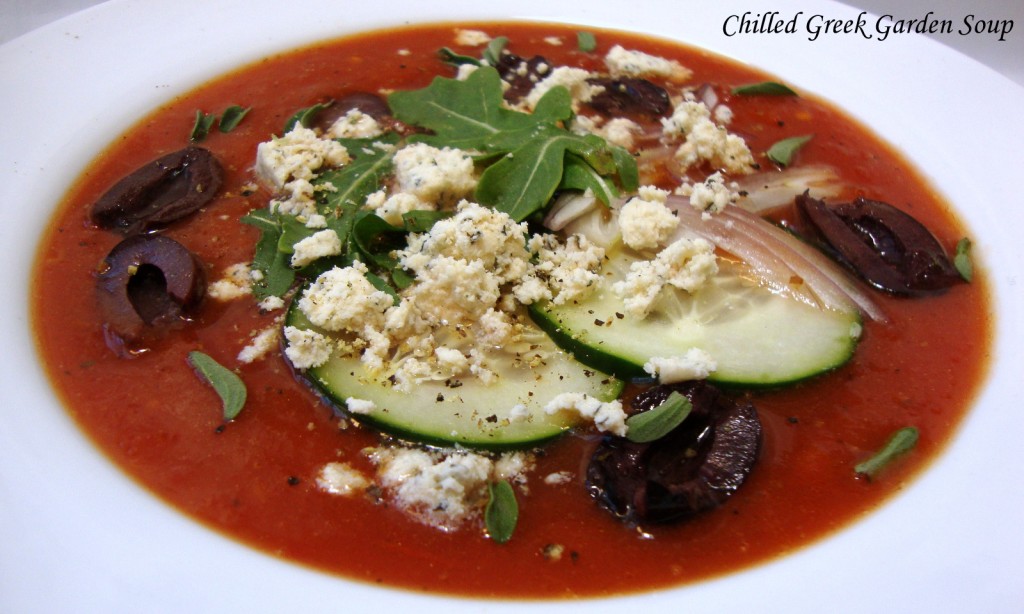 Chilled Greek Garden Soup is a delightfully refreshing spin on the classic Greek salad. This recipe yields about 6 servings.
Soup Ingredients
• 2 cans (28 oz. each) whole peeled tomatoes with liquid
• 1 large cucumber
• 1 small red onion
• 1 red bell pepper or large sweet red pepper, chopped
• 6 T extra-virgin olive oil
• 3 T red wine vinegar
• 1 T sherry vinegar or dark balsamic vinegar
• 1 tsp dried basil
• 1 tsp dried oregano
• 1 tsp sea salt or kosher salt, or more to taste
• ½ tsp coarse ground black pepper, or more to taste
Garnishes
• thinly sliced cucumber
• thinly sliced red onion
• fresh marjoram leaves (optional)
• pitted Kalamata olives, halved
• micro greens or baby greens of your choice, such as arugula
• crumbled Mediterranean Feta (from The Non-Dairy Evolution Cookbook)
Preparation
Thinly slice several cucumber rounds with the peel intact. Set aside for the garnish. Peel the remaining cucumber, cut in half and scrape out the seeds with a spoon. Chop the cucumber and add to a blender.
Thinly slice some of the red onion and set aside for the garnish. Chop the remaining onion and add to the blender. Add the chopped red bell pepper.
Add one can of the tomatoes with liquid to the blender. Add the olive oil, vinegars, basil, oregano, salt and pepper.
Process the mixture until smooth and transfer to a large sealable container. Add the remaining tomatoes with liquid to the blender and pulse a few times until puréed but chunky. Stir the chunky tomatoes into the soup mixture in the container; season with additional salt and pepper to taste. Cover and refrigerate until well-chilled to blend the flavors.
To serve, ladle the soup into individual bowls and top with the garnishes. Serve with toasted pita wedges if desired.

Chilled Greek Garden Soup