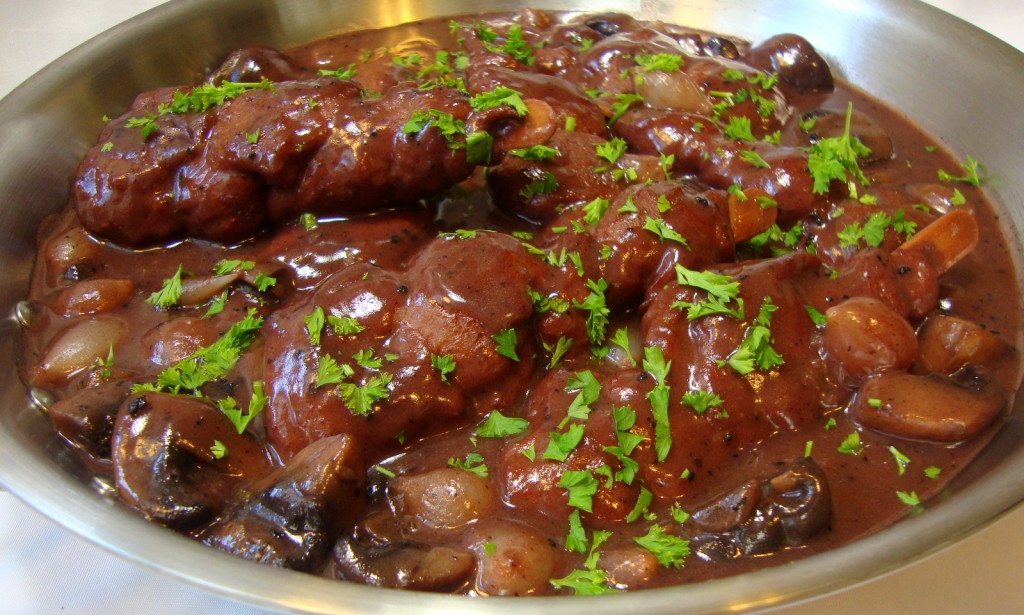 Coq au Vin consists of tender chikun simmered in a luscious red wine sauce with mushrooms and pearl onions and garnished with parsley. Serve over cooked eggless noodles. This recipe yields about 4 servings.
Ingredients
• 1 recipe Chikun Drumsticks or Tenders (from the Seitan and Beyond Cookbook)
• 6 T Bacun Grease (from this blog)
• 8 0z cremini or white mushrooms, quartered
• 1 and ½ cup pearl onions, thawed from frozen
• ¼ cup all-purpose flour
• 2 cups dry red wine (e.g. Cabernet Sauvignon; Merlot)
• 2 cup chikun simmering broth (reserved from preparing the chikun)
• 6 sprigs fresh thyme or 1 tsp dried thyme leaves
• 1 bay leaf
• ½ tsp fine sea salt or kosher salt, or more to taste
• coarse ground black pepper to taste
• chopped fresh parsley for garnish
Preparation
Prepare and refrigerate the drumsticks or tenders according to the directions in the recipe. Reserve 2 cups of the simmering broth for the sauce.
Add the bacun grease to a deep non-stick skillet and place over medium heat to melt. Brown the chikun in the hot grease and transfer to a plate.
In the same skillet, sauté the pearl onions and mushrooms until the onions are translucent and golden and the mushrooms have rendered their liquid. Sprinkle in the flour and mix well. Continue to cook for about 2 minutes to eliminate the raw flour taste.
Incorporate the wine in increments while stirring. Stir in the broth and add the chikun, thyme, bay leaf and salt; season with black pepper. Bring the mixture to a simmer and cook uncovered for 30 minutes, stirring occasionally, to reduce and thicken the sauce. Season the stew with additional salt to taste and remove the thyme stems and bay leaf before serving. Garnish with chopped parsley after plating.