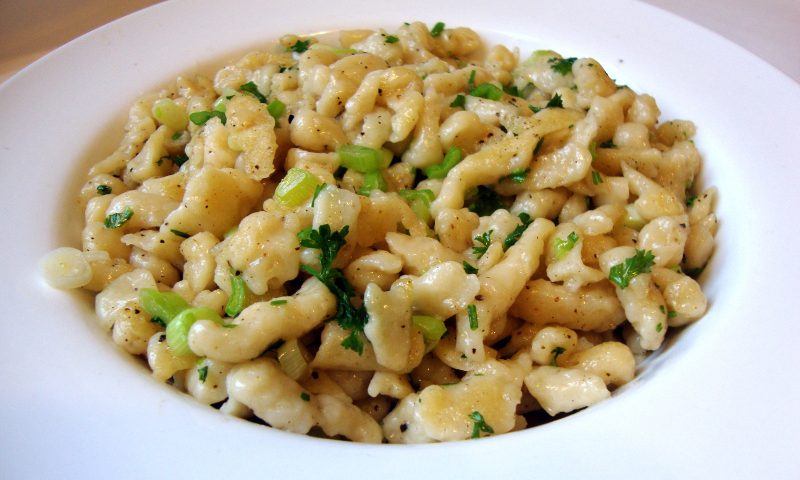 Spätzle, which literally translates as "little sparrows", are noodle-like German dumplings (the more compact form are called Knöpfle, meaning "small buttons"). This recipe utilizes Vegan Eggz Essentials as a replacement for eggs, which in turn produces very light and tender dumplings. Vegan Eggs Essentials is my own product available exclusively through ModernistPantry.com. Other recipes utilizing this product can be found in my Vegan Eggz Essentials digital cookbook available here on my website.
To form the Spätzle, you can use a traditional Spätzle maker or a Spätzle press. If you don't have either device, a food mill or a standard colander with holes (not slots) will work too. This recipe yields 2 generous servings to 4 side servings.
Dry Ingredients
• 1 cup all-purpose flour
Liquid Ingredients
• 1 cup plain unsweetened soymilk or almond milk
• 2 tsp nutritional yeast flakes
• 1 and ½ tsp Vegan Eggz Essentials A
• ½ tsp Vegan Eggz Essentials B
• ½ tsp fine sea salt or kosher salt
• ¼ tsp ground nutmeg
• ⅛ tsp ground white pepper
Finishing Ingredients
• 1 to 2 T non-dairy butter or margarine
• sea salt or kosher salt and coarse ground black pepper to taste
• 2 T optional garnish, such as chopped green onion or minced chives, fresh chopped parsley and/or chopped fresh dill
Preparation
Bring about 3 quarts of water to a rolling boil in a large pot. Add two teaspoons of salt.
Spray the Spätzle maker or press on both sides, including the little basket with cooking oil spray. If using a colander, spray the interior and exterior bottom of the basket. Set aside.
While the water is coming to a boil, add the flour to a mixing bowl. Process the liquid ingredients in a blender for 20 seconds. Add the liquid mixture to the flour and whisk until a smooth and thick batter consistency is achieved. To thin the batter if desired, add small amounts of additional milk.
If using a Spätzle maker, rest it over the pot of boiling water. Spoon the batter into the basket and slide the basket back and forth to drop bits of batter into the water.
If using a press, add the mixture to the basket and gently press the batter, in increments, into the water. If using a colander, hold the basket handle with an oven mitt to protect from steam burns and press and scrape the batter through the holes in the bottom of the basket with a flexible spatula.
Cook the dumplings about 2 minutes. Use a slotted spoon or Chinese spider skimmer to collect the dumplings and place them in a bowl.
Transfer the dumplings to a colander in the sink and give them a light rinse; drain well.
In a large skillet over medium heat, melt 1 to 2 tablespoons non-dairy butter or margarine. Add the Spätzle to the skillet and toss thoroughly until heated through. Season with salt and black pepper to taste, transfer to a serving bowl and garnish as desired; serve immediately.

German Spätzle featuring Vegan Eggz Essentials