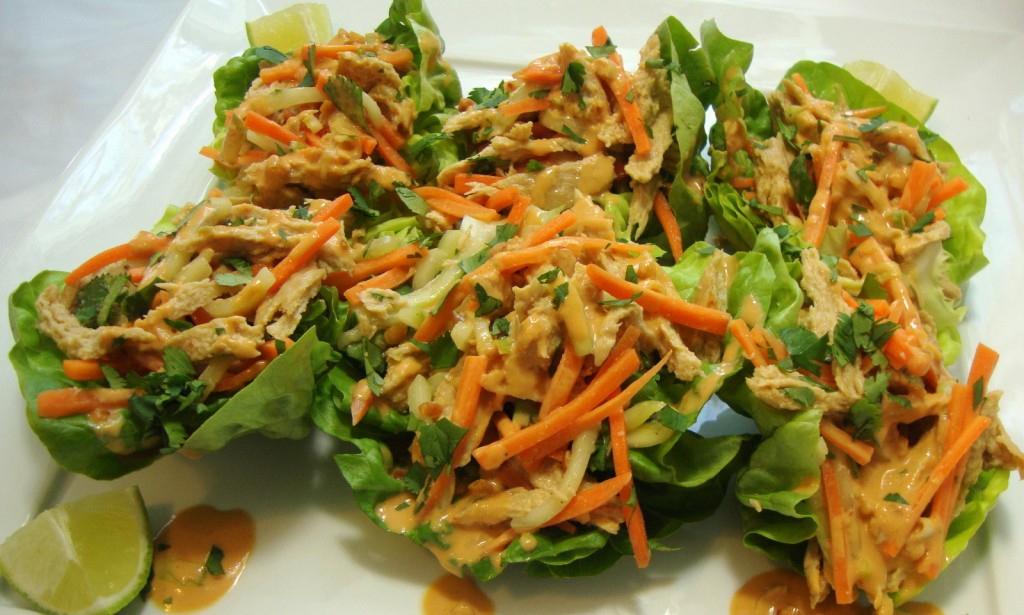 The sauce/dressing used for this salad is tangy, creamy and slightly spicy with bold Southeast Asian flavors. Peanut butter is rich in natural plant fat/oil, so I didn't add any additional oil to the sauce – it just doesn't need it. I chose crunchy peanut butter since many Indonesian and Southeast Asian dishes call for chopped or ground peanuts; however, smooth peanut butter can be used if this is your preference. Sambal oelek is a crushed chili paste commonly used in this regional cuisine, but Sriracha™ can be substituted if this is what you have on hand.
Sauce Ingredients
• ¼ cup warm water
• 2 tsp organic sugar
• 2 T rice vinegar
• 2 T fresh lime juice
• 2 T tamari, soy sauce or Bragg Liquid Aminos™
• 1 T sambal oelek or Sriracha™
• 1 T fresh grated ginger root
• ½ cup natural unsalted crunchy peanut butter
• 1 large scallion, white and green parts, finely chopped
Sauce Preparation
In a bowl or large cup, dissolve the sugar in the warm water. Stir in the remaining ingredients except for the scallion and whisk vigorously until creamy. Stir in the scallions and refrigerate in a covered container for several hours to blend the flavors before using.
Salad Ingredients
• 3 cups lightly grilled or sautéed vegan chicken; chilled and chopped, sliced or shredded
• ½ English cucumber, seeded and julienned
• 2 average-size carrots, peeled and julienned or shredded
• ¼ cup chopped cilantro or mint leaves
• fresh lime wedges
• Butterhead lettuce leaves (Butter, Boston or Bibb lettuces all fall within this category)
Salad Preparation
Toss the vegan chicken, cucumber and carrots with ¼ cup of the sauce and chill for about 30 minutes. Add the cilantro and toss to combine. Fill lettuce leaves with the salad and drizzle additional dressing over each lettuce cup. Serve with lime wedges.

Indonesian Vegan Chicken Salad with Spicy Peanut Sauce