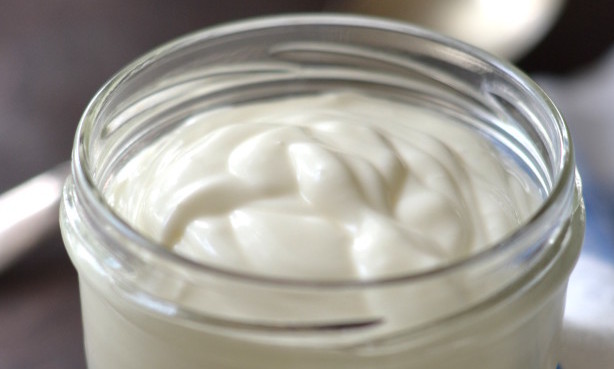 This easy-to-make, instant, non-dairy sour cream is my smoothest and creamiest uncultured sour cream recipe to date. Please note that there is no alternative to using soymilk or lactic acid in this recipe. Thickening is dependent upon the curdling action of soymilk when lactic acid is introduced. Other plant milks will not react to the acid in the same manner and fruit acids (lemon juice; vinegar) will not yield the same flavor as lactic acid.
Vegan lactic acid powder can be purchased online from ModernistPantry.com. This recipe yields 2 cups sour cream.
Ingredients
• ¾ cup refined (purified) coconut oil, melted
• 1 and ¼ cup plain soymilk (sorry, no substitutes), room temperature
• ½ tsp guar gum or xanthan gum
• ¼ tsp fine sea salt or kosher salt
• 2 tsp lactic acid powder (sorry, no substitutions)
Preparation
Measure the melted coconut oil and set aside.
Measure the lactic acid and set aside in a small dish.
Add the soymilk, food gum and salt to a high-powered blender, cover and process on high speed. With the blender running, add the coconut oil through the hole in the lid in a slow but steady stream. Continue to process for 15 seconds. Add the lactic acid powder all at once and process no more than 5 seconds; turn the blender off.
Transfer the sour cream to an airtight container, seal and refrigerate until well-chilled and further thickened. Consume within 10 days of preparation.

Instant Velvety Non-Dairy Sour Cream