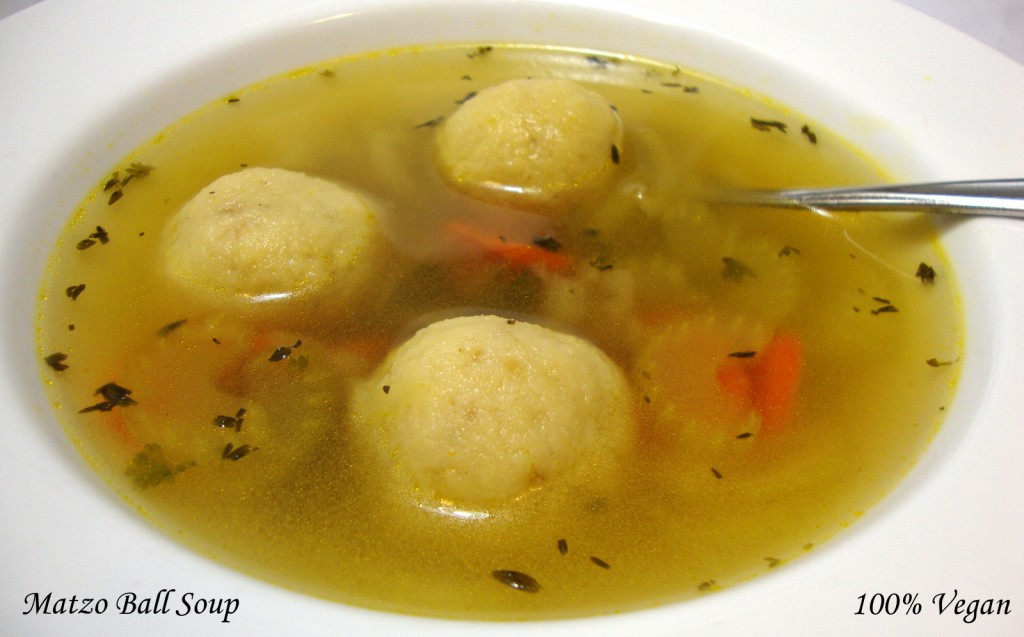 Matzo is a traditional Jewish unleavened "bread" or cracker. Matzo balls are comprised of matzo meal, which is basically matzo crumbs. In traditional cooking, matzo balls (which are essentially round dumplings) require eggs as a binder. So, I challenged myself to create matzo balls without any binder at all and I'm actually pleased with the results.
If you're expecting fluffy matzo balls similar to the egg-laden version, you may be disappointed. In order to hold them together without binders, semolina flour is used in a 50/50 ratio with the matzo meal. Semolina is a coarse golden flour derived from durum wheat and is used in making pasta and couscous. The semolina makes them a bit more dense than traditional matzo balls, with an 'al dente" texture (matzo enthusiasts would label them as "sinkers" since they do not float like fluffy matzo balls).
The matzo balls are served in a "no-chicken" broth flavored with thyme, parsley and a mirepoix of carrots, celery and onions; simple and yet delicious. This recipe yields 6 medium-size matzo balls and about 1 quart of soup.
Ingredients of the Matzo Balls
• ¼ cup matzo meal
• ¼ cup semolina flour
• 1 tsp kosher salt
• ⅓ cup water
• 1 T mild cooking oil (plus 1 tsp for the mixing bowl)
Ingredients for the Soup
• 6 cups vegan "no-chicken" broth
• 1 large carrot, sliced
• 1 large rib celery, sliced
• 1 small onion, peeled, thinly sliced and then chopped
• ½ tsp dried thyme
• 2 T chopped curly parsley
• coarse ground black pepper to taste
• kosher salt, to taste as needed
Technique
In a mixing bowl, combine the matzo meal, semolina and salt. In a small cup combine the water and oil. Pour the water and oil into the dry ingredients and mix thoroughly. Cover and refrigerate for 10 minutes.
Form the dough into 6 walnut-size balls. Add 1 teaspoon cooking oil to the mixing bowl and roll the matzo balls in the oil until evenly covered. Cover again and refrigerate for 10 minutes.
Bring 6 cups of salted water to a boil in a cooking pot. Carefully lower the chilled matzo balls in the boiling water. Reduce the heat to a vigorous simmer and cook for 12 minutes. When done, remove with a slotted spoon to a bowl to cool. Cover and refrigerate for several hours until well-chilled. DO NOT omit this step.
Bring the stock, carrot, celery and onion to a boil in large cooking pot. Add the thyme, cover and reduce the heat to a gentle simmer for 20 minutes. Add the chilled matzo balls to the soup, cover the pot and continue cooking for 40 minutes. The matzo balls will swell slightly during cooking.
Stir in the parsley and season with pepper and additional salt as needed to taste.