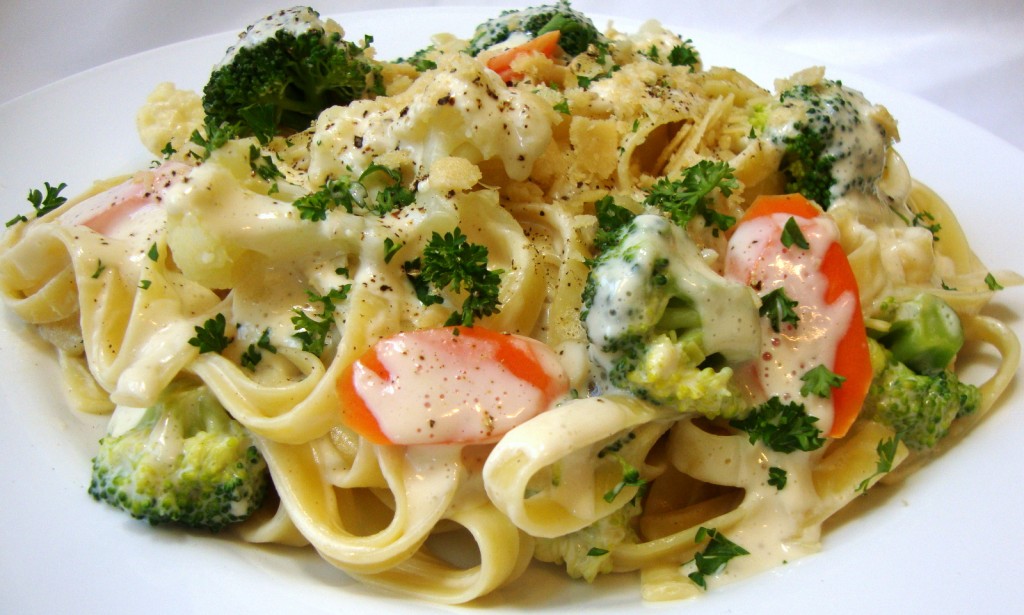 Alfredo sauce is a creamy and rich white sauce traditionally served over fettuccini. Dairy parmesan cheese is a primary ingredient in traditional Alfredo sauce; however, non-dairy parmesan won't provide the same texture and richness; therefore non-dairy parmesan is reserved for garnishing the final dish.
The sauce is very easy to prepare and achieves the ideal "nappe" consistency for serving over pasta ("nappe" refers to a sauce or custard consistency thick enough to coat the back of a spoon).
Ingredients
• 2 cups plain unsweetened soymilk
• 1.5 oz (about ⅓ cup) whole raw cashews (pre-soaking unnecessary)
• ¼ cup mild olive oil
• 1 T nutritional yeast flakes
• 1 T mellow white miso paste
• 1 and ½ tsp onion powder
• 1 tsp garlic powder
• ¾ tsp fine sea salt or kosher salt, or more to taste
• ¼ tsp ground white pepper
• 2 T chopped fresh parsley
• shaved Hard Parmesan or Easy Grated Parmesan (from the Non-Dairy Evolution Cookbook)
Technique:
Process all ingredients except for the parsley and parmesan in a blender on high speed for 2 full minutes. Strain through a fine mesh sieve into a saucepan and cook over medium-low heat, stirring slowly and continually, until the mixture just comes to a simmer. Reduce the heat to low to keep warm until ready to serve; stir occasionally.
For Fettuccini Alfredo, prepare the pasta as directed on the package. Drain well and toss the pasta with steamed vegetables and/or plant protein of your choice and a small amount of the sauce to prevent the pasta from sticking. Top with additional sauce when serving. Garnish with the shaved parmesan and fresh parsley.