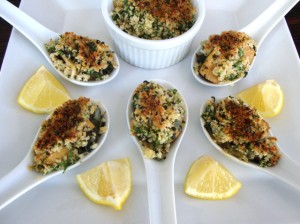 This is my own vegan version of the classic appetizer. Fresh oyster mushrooms are often difficult to locate and when they are available, they're rather expensive. However, canned oyster mushrooms can be purchased from your local Asian market and are very inexpensive. They also have the perfect texture for this recipe. Canned abalone mushrooms work well too.
Traditionally Pernod, an anise flavored liqueur, is added to the spinach and shallot mixture in the skillet; however, it is rather expensive, so I've substituted dry sherry (you can also use vegetable broth) with ground fennel to impart that wonderful anise flavor.
Special items needed:
• Large ceramic soup spoons or individual ramekins
Ingredients
• 1 can (about 7.5 oz. drained weight) oyster mushrooms (available in Asian markets) or 8 oz. (½ lb.) quartered fresh oyster mushrooms
• 4 T Better Butter (from either of my cookbooks) or vegan margarine
• 2 garlic cloves, minced
• ⅓ cup Panko bread crumbs
• 2 shallots, finely chopped or 1/2 cup finely chopped red onion
• 2 packed cups chopped fresh spinach
• ¼ cup dry sherry (or vegetable broth)
• ¼ tsp ground fennel
• sea salt or kosher salt and coarse ground black pepper, to taste
• dash red pepper sauce
• 2 T olive oil
• ¼ cup Grated Parmesan (from The Non-Dairy Formulary) or commercial vegan parmesan
• 2 T minced fresh parsley
• lemon wedges, for garnish
Technique:
Drain the water from the oyster mushrooms (if using canned), remove the tough part of the stems, cut into quarters and set aside.
Melt the butter in a skillet over medium heat and sauté the garlic for 2 minutes to infuse the butter.
Place the bread crumbs in a small mixing bowl and add half the garlic butter, set aside.
To the remaining garlic butter in the skillet, add the chopped mushrooms, shallots and spinach and sauté for 3 minutes until the spinach wilts.
Remove the pan from the heat and add the dry sherry. Replace the skillet over the heat and add the fennel, a generous pinch of salt and pepper and a dash of red pepper sauce. Allow the mixture to cook down for a few minutes but do not let it dry out.
While the mixture is cooking, finish the bread crumbs by mixing in the olive oil, vegan parmesan and parsley; season with a pinch of salt and black pepper to taste.
Remove the skillet from the heat. Spoon 1 heaping teaspoon of the mushroom/spinach mixture into each serving spoon or fill the individual ramekins halfway. Top with a spoonful of the bread crumb mixture. Place on a baking sheet and then under a broiler for a few minutes until golden brown on top. Serve with lemon wedges and additional red pepper sauce.
Oyster Mushroom Rockefeller