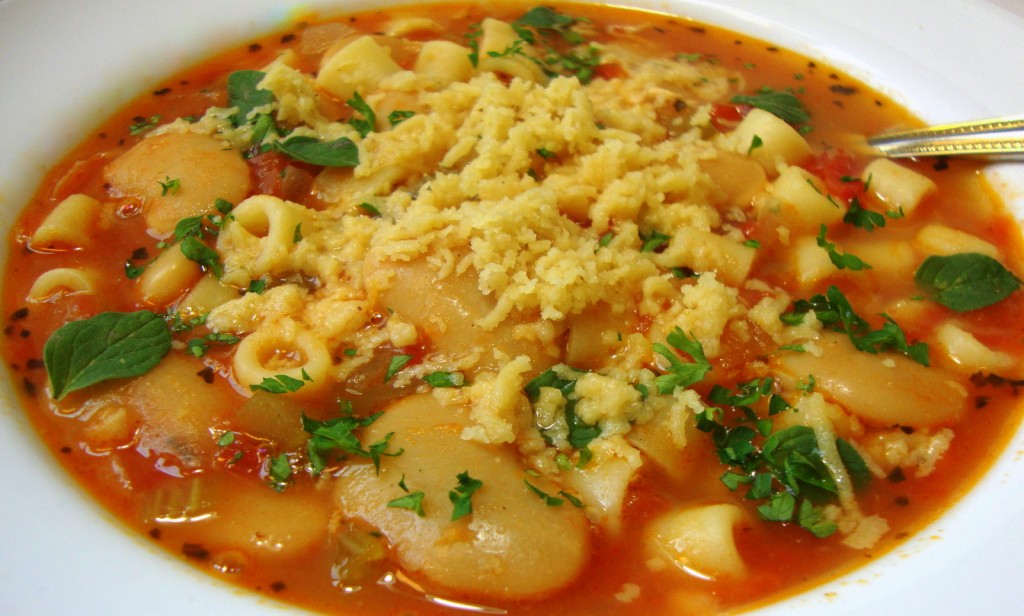 Pasta e Fagioli (pronounced fa-jo-lee) literally means "pasta and beans" in Italian. My version of this classic soup contains meaty butter beans (large limas) and ditalini pasta in a savory tomato and vegetable-based broth. Garnish with grated non-dairy parmesan and chopped parsley. Fresh oregano leaves or julienned basil leaves are optional garnishes.
Ingredients
• 2 T olive oil
• 1 medium onion, diced
• 2 ribs celery, diced
• sea salt or kosher salt
• 4 large cloves garlic, minced
• 5 cups vegan no-chicken broth or vegetable broth
• 1 can (28 oz) crushed tomatoes with liquid or 3 cups peeled and crushed fresh tomatoes
• 1 tsp dried basil leaves
• 1 bay leaf
• coarse ground black pepper to taste
• 2 cans (15 oz each) butter beans, drained
• 3 oz/⅔ cup dry ditalini pasta
• grated non-dairy parmesan (from my Non-Dairy Evolution Cookbook or a commercial vegan equivalent)
• 2 T chopped parsley
• optional garnishes: fresh oregano leaves or julienned basil leaves
Preparation
Add the olive oil to a large soup pot and place over medium heat. Add the onions and celery and a pinch or two of salt. Sauté until the vegetables are softened and the onions are translucent but not browned. Add the garlic and sauté and additional minute.
Add the broth, crushed tomatoes with liquid, dried basil and bay leaf and season with black pepper to taste. Bring to a brief boil and reduce to a simmer. Cover the pot and cook for 20 minutes.
While the soup base is cooking, place the butter beans in large bowl in the sink and fill with cool water. Immerse your hand in the water and swirl the beans to loosen the skins. Work gently so as not to mash or break the beans. Let the beans settle and pour off the water which will carry away any loosened skins. Repeat a few times until most of the skins have been removed. Drain well.
After 20 minutes of cooking, add the beans and the dry pasta. Cover and simmer an additional 20 minutes; season with salt to taste.
Remove and discard the bay leaf and ladle the soup into individual serving bowls. Garnish with the parmesan, parsley and the optional oregano or basil leaves. Serve with crusty Italian bread.