Vegan Cuisine for the Ethical Gourmet
by Skye Michael Conroy
The Gentle Chef Cookbook is a TEXT-ONLY working kitchen formulary containing over 230 delicious vegan recipes for creating a wide variety of plant-based foods.
Chapter 1 offers detailed, step-by-step instructions for creating a variety of seitan products, including moist and tender roasts, sandwich deli slices, sausages, satays (shish kabob), ribz, meatballs and so much more. Seitan (say-tan) or wheat meat, is an amazingly versatile, protein-rich meat alternative made from wheat gluten.
Chapter 2 addresses the basics and preparation of the soy-based meat replacements: TVP (textured vegetable protein), tofu and tempeh.
Chapter 3 offers detailed, step-by-step instructions for creating a variety of non-dairy foods including vegan butter, heavy cream, sour cream, whipped cream and an assortment of vegan cheeses.
Chapters 4 through 10 offer detailed, step-by-step instructions for creating hearty breakfast and brunch dishes; appetizers, dips and spreads; sandwich fillings; American and international dinner entrees and accompaniments; soups, broths and stews; salads and dressings (including the best egg-free mayonnaise); sauces and gravies; and scrumptious vegan desserts.
 *I'd like to correct a recipe credit omission in my Gentle Chef Cookbook. The concept and instructional text for the Stuffed Potato Poppers appetizer can be credited to Stephanie Bly Sulzman. My apologies for this oversight.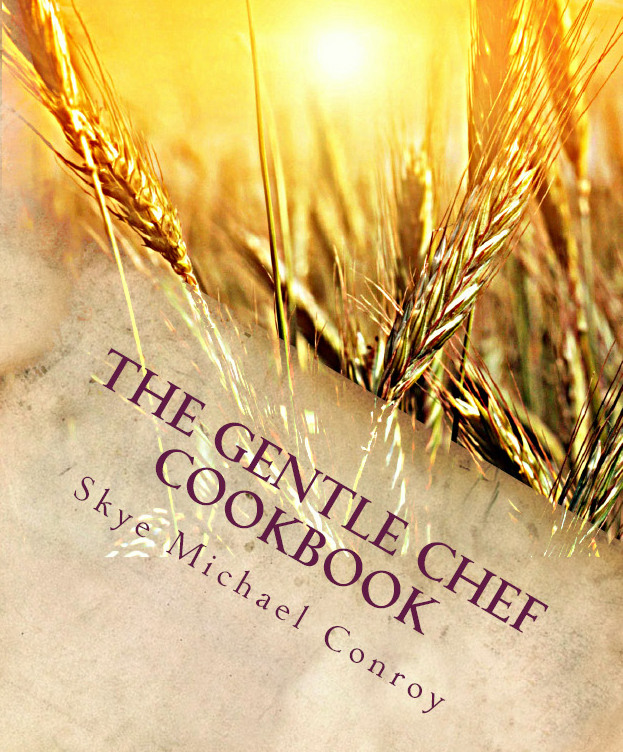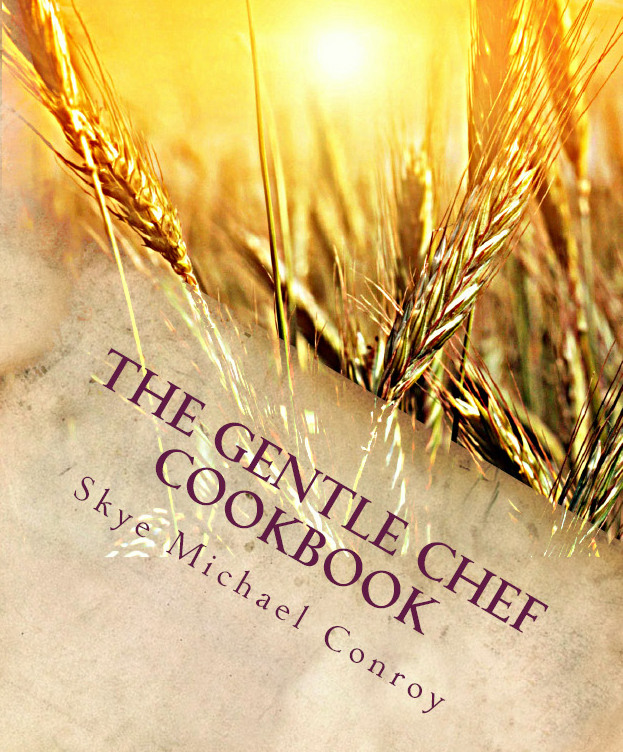 Order The Gentle Chef Digital Cookbook (Full Color)
The Gentle Chef Cookbook is available in digital format as a PDF file. The cookbook is illustrated with full color photos and contains active menu links for easily navigating the recipes on your computer or mobile device.
Payment transactions are safe and secure through Paypal and no account is necessary. Please note the software requirements for downloading the file in the notes below. The download link for the cookbook file is provided upon completion of the transaction, so be sure to look for it. An email receipt containing the download link will also be sent. Please CHECK YOUR SPAM FOLDER before contacting me about a missing download link. For file replacements, you can email me at: thegentlechef@gmail.com. Please do not contact me through Paypal for downloading issues. Paypal has nothing to do with the file download itself and contact will initiate a formal dispute claim against the payment transaction.
The file is intended solely for your personal home use, so in accordance with copyright laws, I ask that you do not distribute the file. If you wish to share with friends, please repurchase the file. All sales are final – no refunds please. It is recommended that the file be backed up on your computer; files lost due to personal computer issues or error will not be replaced free of charge.
Important software requirements! In order to download and open a PDf file, a program is required for reading the file. If you cannot download or open the file, it's because the PDF reader is not properly installed on your computer or mobile device – the cookbook file itself is not faulty.
Adobe Reader is the gold standard of all PDF Readers. It is the most fully featured PDF reader that you'll find, and this makes it an essential piece of free software for almost any computer or mobile device. The reader can be safely downloaded by clicking here.