About Skye Michael Conroy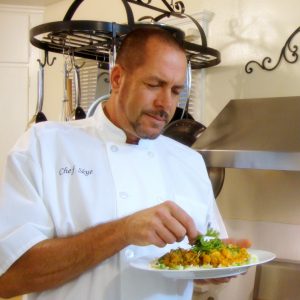 In the late summer of 2010, I took PETA's 30-day pledge to adhere to a vegan diet. I never turned back. However, this transition did not occur overnight, in fact, it was the culmination of many years of on-and-off vegetarianism. I was introduced to vegetarian cuisine in early adulthood and enjoyed it very much, but I also enjoyed many animal foods. Somehow the idea of slaughtering animals seemed wrong, but since I never witnessed or participated in the slaughter, I accepted it as part of the dark and ugly side of reality.
One day, I stumbled across a documentary entitled "Meet Your Meat", which exposed the horrors of factory farms and slaughterhouses (abattoirs). I was deeply disturbed by the film and immediately eliminated meat from my diet. But time passed and indifference returned along with my meat-based diet, as I rationalized that somehow these were isolated incidences. I just couldn't fathom that human beings, or our government, would allow such atrocities to occur. Yes, I was very naïve.
Several years later, I became close friends with a fascinating woman who just happened to be a vegan and animal rights activist. I found her lifestyle interesting and admirable but at the same time extreme – I could imagine a life without consuming meat but a life without dairy and eggs seemed unthinkable. Sure, the health benefits were obvious, but that reason alone was not enough for me to maintain such a strict diet and lifestyle. I still hadn't made the mental and spiritual connection, or perhaps more accurately, I wasn't ready to make the connection because I knew it would involve some radical shift in the way I lived my life.
I think my defining moment came after viewing the documentary entitled "Earthlings". At that point, I finally came to the realization that animals exist for their own reasons and were not put on this Earth merely to gratify human desires. I knew then that if there was to be any change at all in how animals are treated, I was going to have to be part of that change. It was time.
Guided by this new level of awareness, I decided I would no longer consume animals or their by-products and I would reject, as far as possible and practical, all use of animal products for any other purpose. This practice of non-violence and non-exploitation of sentient beings became an intrinsic part of my spiritual path, as well as my philosophical beliefs. It was at this time that I began experimenting with plant-based cooking.
My journey as a vegan chef really started as a non-professional hobby, from which my first Gentle Chef Cookbook was published in 2012, but then evolved as I began to study the culinary arts in depth. On October 1, 2014, I received my Plant-Based Professional Certificate of Completion from Rouxbe Cooking School under the direction of world famous plant-based chef Chad Sarno. I continued to experiment on my own with plant-based ingredients and ultimately organized my recipes into several more specialized cookbooks. I'm still studying, experimenting and learning with more advanced cookbooks planned for the future.
While cooking is my primary passion, I'm an avid gardener and landscaper and love spending time outdoors. I currently reside in Northeastern Indiana with my partner Zach and our nine cats and two rabbits.


For Chef Skye Michael Conroy, cooking is all about the animals. Not the rumps and cheeks and wings of dead animals (as per a conventional chef) but the living, breathing animals — the pigs and chickens and cows traditionally used for food… Read more on Paste.