Order The Gentle Sea Cookbook (Full Color Digital Format)
The Gentle Sea Cookbook is available in digital format as a PDF file (it can be purchased by clicking the "Buy Now" button to the right). The cookbook is beautifully illustrated with large, full color photos and contains active menu links for easily navigating the recipes on your computer or mobile device.
Payment transactions are safe and secure through Paypal and no account is necessary. Please note the software requirements for downloading the file in the notes below. The download link for the cookbook file is provided upon completion of the transaction, so be sure to look for it. An email receipt containing the download link will also be sent. Please CHECK YOUR SPAM FOLDER before contacting me about a missing download link. For file replacements, you can email me at: thegentlechef@gmail.com. Please do not contact me through Paypal for downloading issues. Paypal has nothing to do with the file download itself and contact will initiate a formal dispute claim against the payment transaction.
The file is intended solely for your personal home use, so in accordance with copyright laws, I ask that you do not distribute the file. If you wish to share with friends, please repurchase the file. All sales are final – no refunds please. It is recommended that the file be backed up on your computer.
Important software requirements! In order to download and open a PDf file, a program is required for reading the file. If you cannot download or open the file, it's because the PDF reader is not properly installed on your computer or mobile device – the cookbook file itself is not faulty.
Adobe Reader is the gold standard of all PDF Readers. It is the most fully featured PDF reader that you'll find, and this makes it an essential piece of free software for almost any computer or mobile device. The reader can be safely downloaded by clicking here.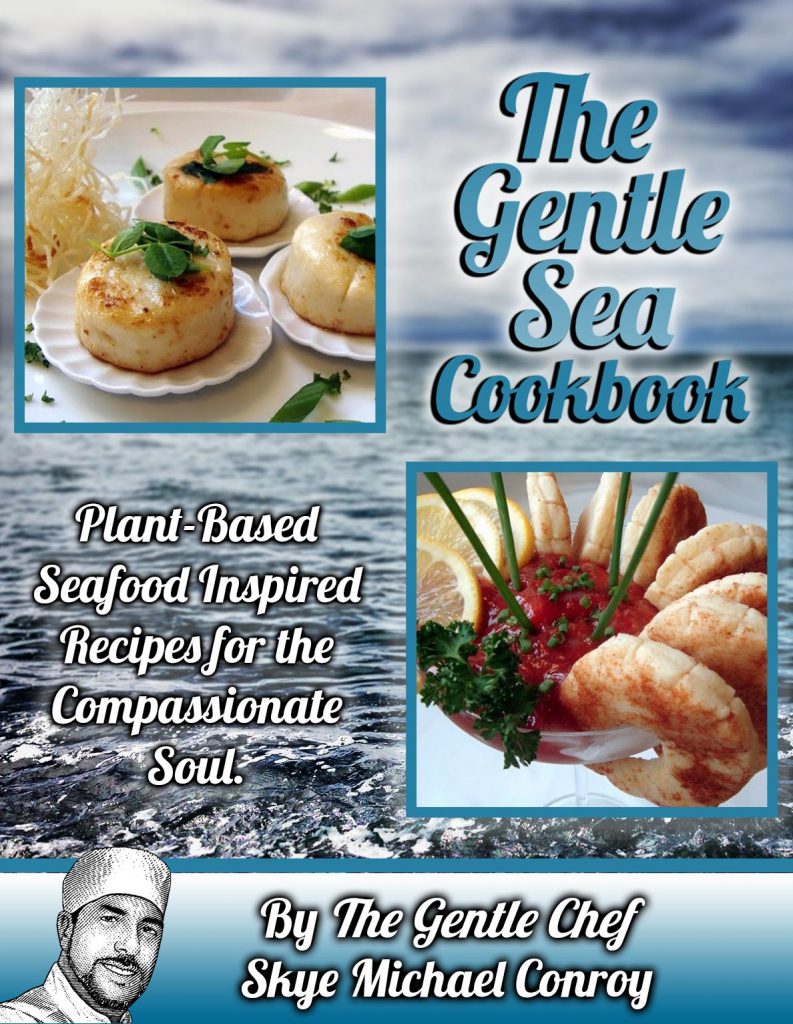 Many people who embrace a plant-based diet do so for ethical reasons and not because they dislike the flavor and texture of seafood. But finding satisfying seafood alternatives is not always easy for individuals who once enjoyed the flavors and textures associated with seafood, or for individuals who grew up with seafood dishes as a traditional part of their family or ethnic heritage.
The Gentle Sea Cookbook focuses on approximating the appearance, flavor and texture of a variety of sea foods using plant-based ingredients. With these recipes we will explore new and different ways to create vegan alternatives for fish, scallops, shrimp, lobster, calamari, clams and more, at home using tofu, konjac and other wholesome plant-based ingredients and without the need for expensive factory equipment. Most of the seafood analogues are gluten-free too.
The cookbook, in full color digital format, also offers a comprehensive section of recipes devoted to vegan seafood appetizers, soups, salads and entrées, as well as seasonings, sauces and condiments. The cookbook is not available in hard copy at this time. 
Please note that  many of the recipes in this cookbook, but not all, also appear in my more recent Cook and Let Live Cookbook, which is a general vegan cookbook (available in hardcopy and digital).