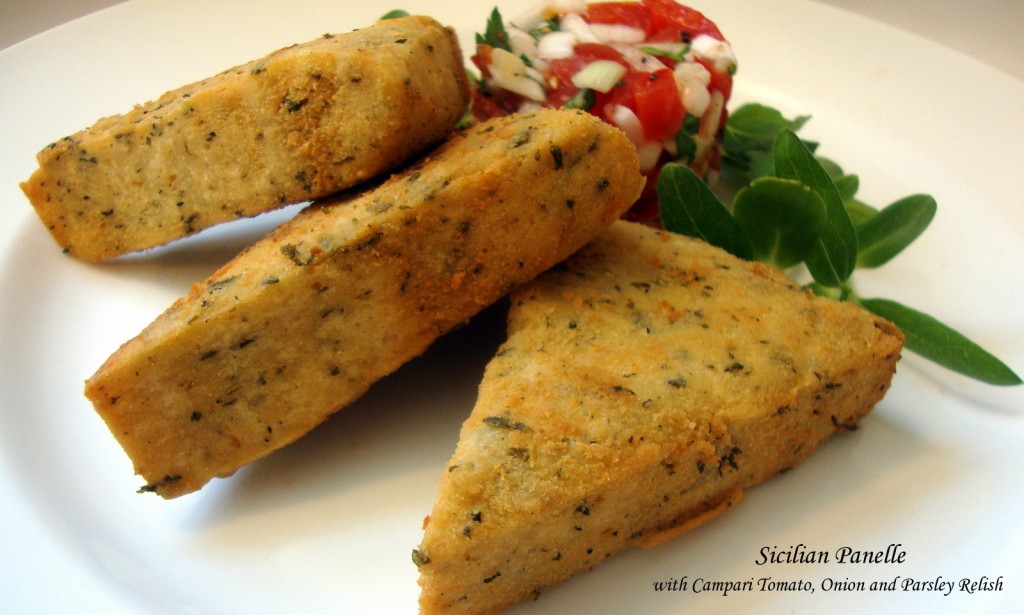 Panelle, also known as Panella di Ceci, are Sicilian fritters made from chickpea flour and seasonings and are similar to fried polenta. They are a popular street food in Palermo and are often eaten between slices of bread or on a roll, like a sandwich. Panelle are believed to be of Arabic origin. The panelle can be cut into various shapes and sizes before frying.

Ingredients for the Panelle
• 1 cup chickpea flour
• 2 T dried parsley flakes
• 1 tsp onion powder
• 1 tsp dried basil
• ½ tsp garlic powder
• 2 cups water
• 2 T olive oil
• 1 tsp sea salt or kosher salt
• high-temp cooking oil for frying
Ingredients for the Relish (optional)
Mix together in a bowl:
• 3 campari tomatoes, seeded and diced
• 3 T finely diced onion
• 3 T finely chopped flat leaf parsley
• 2 tsp olive oil
• 2 tsp fresh lemon juice
• sea salt or kosher salt and fresh ground black pepper to taste
Preparation
Oil and 8"x8" baking dish or line with parchment paper. Set aside.
Combine the chickpea flour, parsley, onion powder, basil and garlic powder in a bowl.
In a medium saucepan, bring the water, oil and salt to a boil. Reduce the heat to a vigorous simmer and sprinkle in a small portion of the flour mixture while whisking vigorously to avoid lumps. Continue to incorporate the flour mixture in increments. Cook the mixture until it begins to pull away a bit from the sides of the saucepan. It will be very thick.
Transfer the mixture to the baking dish and spread evenly. Let cool a bit and then cover with foil or plastic wrap and refrigerate for several hours or until completely chilled and firm set.
Cut the panelle into any desired shape and fry until golden brown in hot cooking oil. They take a little time to brown, so be patient. Transfer to a plate lined with paper towels to blot excess oil. Serve warm.