The Non-Dairy Evolution Cookbook
A Modernist Culinary Approach to Plant-Based, Dairy Free Foods
*Please note: This cookbook is TEXT-ONLY*
Scroll Down the page to purchase the Digital Color Copy.
The Non-Dairy Evolution Cookbook is a follow-up to The Non-Dairy Formulary and offers new and improved plant-based, dairy-free recipes to delight your palate.
Detailed step-by step instructions are provided for creating non-dairy butter, milks and creams using a variety of plant-based ingredient options; cultured butter; cultured raw buttermilk; cultured cashew-based creams; Greek-style yogurt and sharp, tangy cultured cheeses; "instant" soymilk or almond milk-based cheeses that shred and melt; tofu-based cheeses; delicious eggless egg recipes; and delectable non-dairy desserts including puffy, gelatin-free marshmallows! Good karma never tasted so delicious!
Please note that the cookbook contains no photos. As a companion reference guide,
*Allergy warning: Most of the recipes in this book involve soy, cashew nuts or almonds.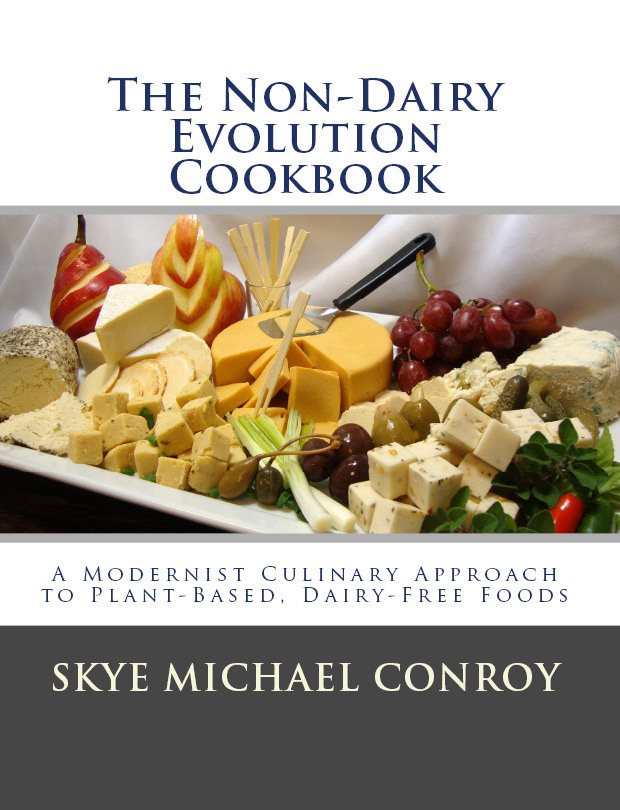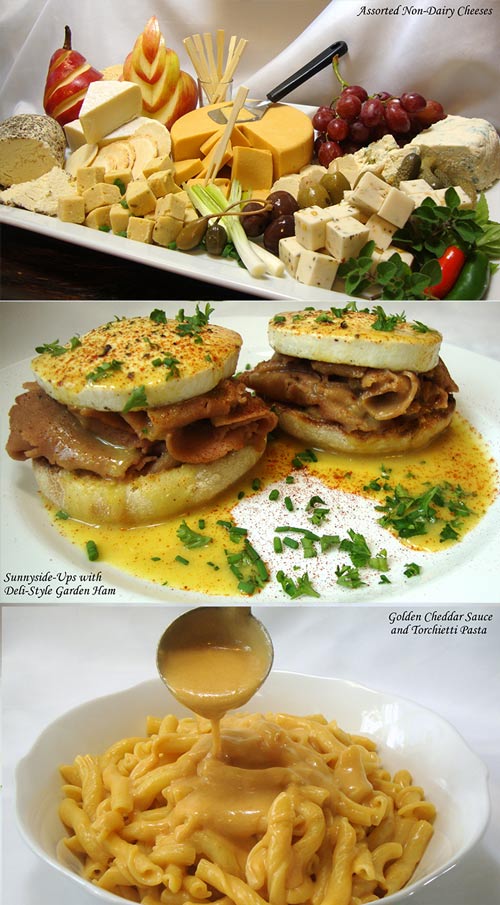 Order Non-Dairy Evolution Digital Cookbook (Full Color)
The Non-Dairy Evolution Cookbook is available in digital format as a PDF file (it can be purchased by clicking the "Add to Cart" button at the bottom of the page). The cookbook is illustrated with full color photos and contains active menu links for easily navigating the recipes on your computer or mobile device.
Payment transactions are safe and secure through Paypal and no account is necessary. Please note the software requirements for downloading the file in the notes below. The download link for the cookbook file is provided upon completion of the transaction, so be sure to look for it. An email receipt containing the download link will also be sent. Please CHECK YOUR SPAM FOLDER before contacting me about a missing download link. For file replacements, you can email me at: thegentlechef@gmail.com. Please do not contact me through Paypal for downloading issues. Paypal has nothing to do with the file download itself and contact will initiate a formal dispute claim against the payment transaction.
The file is intended solely for your personal home use, so in accordance with copyright laws, I ask that you do not distribute the file. If you wish to share with friends, please repurchase the file. All sales are final – no refunds please. It is recommended that the file be backed up on your computer; files lost due to personal computer issues or error will not be replaced free of charge.
Important software requirements! In order to download and open a PDf file, a program is required for reading the file. If you cannot download or open the file, it's because the PDF reader is not properly installed on your computer or mobile device – the cookbook file itself is not faulty.
Adobe Reader is the gold standard of all PDF Readers. It is the most fully featured PDF reader that you'll find, and this makes it an essential piece of free software for almost any computer or mobile device. The reader can be safely downloaded by clicking here.