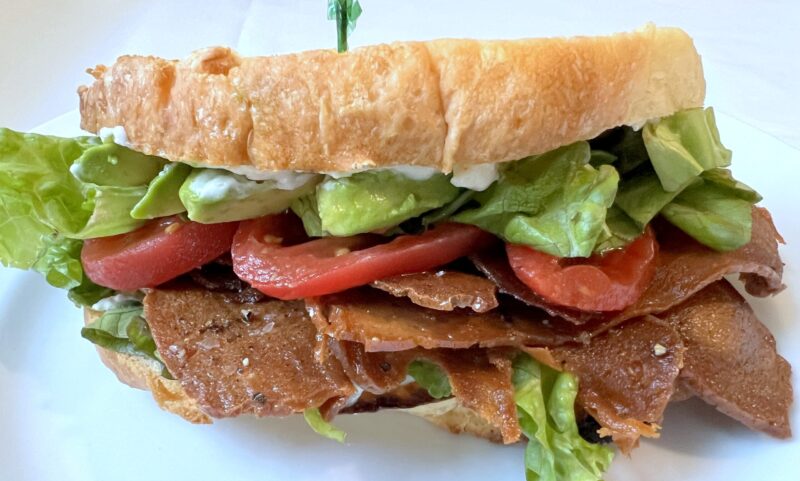 The premium vegan bacun recipe from my published cookbooks is awesome. It's beautifully marbled, which adds a bit of visual realism; but sometimes a quicker and easier preparation is appreciated. This shortcut recipe produces a vegan bacun with no marbling. Omitting the second marbling dough makes this recipe much easier and faster to prepare (your mouth won't know the difference). The prepared sliced bacun fries up extra crisp and delicious in the skillet or oven. A food processor is requiring for mixing the dough and an electric pressure cooker (e.g., Instant Pot) is ideal for cooking preparation (conventional steaming is an alternate option).
Ingredients
5 oz/140 grams pressed and crumbled extra-firm tofu (not silken tofu)
1 tablespoon onion powder
1 tablespoon smoked paprika
1½ teaspoon garlic powder
3 tablespoons tamari, soy sauce or Bragg Liquid Aminos™
1 tablespoon vegan Worcestershire sauce
4 teaspoons dark brown sugar
2 teaspoons hickory liquid smoke
1 teaspoon browning liquid (e.g., Gravy Master; Kitchen Bouquet)
½ teaspoon sea salt or kosher salt
1¼ cup (175 grams) vital wheat gluten (scoop and level)
½ cup (120 ml) water
Dry Rub
1 teaspoon coarse ground black pepper; and/or
1 tablespoon dark brown sugar
Preparation
Press and blot the tofu to remove as much water as possible; then crumble.
In a food processor fitted with a standard chopping blade or plastic dough blade, add all ingredients except for the gluten and water. Process as smooth as possible.
Add the gluten and water and process for 2 to 3 full minutes or until the mixture comes together into an elastic ball of dough. If the dough is not coming together after two and a half minutes, add 2 tablespoons vital wheat gluten and process until the dough comes together.
Shape the dough into a thick, flattened rectangle on a sheet of extra-wide, heavy-duty aluminum foil. Sprinkle with the black pepper and/or brown sugar. Wrap the dough in the foil to create a flat package. Fold then ends inwards to seal (like wrapping a holiday present). Rewrap in a second sheet of foil for reinforcement.
Pressure Cooker
Add a few cups of water to the cooker and place the container on the trivet. Seal the lid, close the steam valve, and cook on Manual/High for 1 hour. Turn off the cooker and let the steam pressure naturally release for 30 minutes; do not open release valve to release pressure! Remove the container from the cooker; let cool in the mold with the foil in place and then chill to firm and enhance texture before slicing and frying.
Conventional Steamer with Basket
Add water to the cooking pot just below the steamer basket. Bring to a rapid boil over high heat. Set the wrapped container in the basket and put the lid in place. The heat can be reduced to medium to conserve energy as long as the water continues to rapidly boil. Steam for 1 hour and 30 minutes. Check every 30 minutes and add very hot water to the pot as needed to replace water lost from evaporation. Do not let the pot boil dry! After cooking, remove the container from the steamer; let cool in the mold with the foil in place and then chill to firm and enhance texture before slicing and frying.
Finishing the Bacun
Slice the bacun as thinly as possible for the crispest texture after frying (unless you prefer a thicker cut). When sliced thin, the bacun may tatter a bit, but this only adds to the authentic finished texture and appearance.
To oven fry the bacun, preheat the oven to 375°F (190°C). Line a baking sheet with aluminum foil for easy cleanup and arrange the slices in a single layer. Generously brush the slices on both sides with cooking oil. Bake for 15 to 20 minutes. Transfer to a plate lined with paper towels to blot any excess oil.
To skillet fry the bacun, pour a generous layer of cooking oil in a large skillet over medium-high heat (to prevent burning, avoid frying it at a high temperature). Cook until lightly browned on both sides. Transfer to a plate lined with paper towels to blot any excess oil.
As the bacun cools, it will crisp up. Thicker slices will retain a chewy texture.
Tips from Chef Skye
It's helpful to put a heavy object, such as a cast-iron skillet, on the foil package to compress it as it cools and keep the slab of bacun flat. This will also help to compress the bacun and improve its texture.