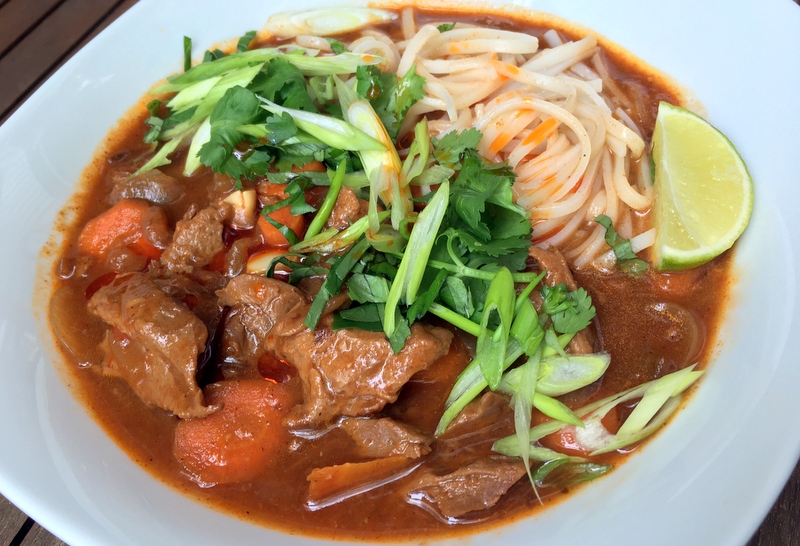 Exotic, savory, spicy and deliciously vegan! The shredded beaf brisket has just the right texture for soaking up the flavors of this stew. 
Stew Ingredients
1 Stewing Beaf (Seitan and Beyond https://thegentlechef.com/gentle-chef-cookbooks/seitan-beyond-cookbook/)
or Beaf Brisket (Crafting Seitan @ Amazon.com), pulled into bite-size shreds
2 tablespoons cornstarch or unmodified potato starch
Cooking oil
1 large onion, thinly sliced
4 large carrots, peeled and sliced on the bias
4 cloves garlic, roughly chopped
2 tablespoons grated fresh ginger
1 teaspoon Chinese five-spice powder
4 cups Beaf Simmering Broth (either cookbook)
2 cups coconut water/juice
2 stalks lemon grass, light portion only, split
2 tablespoons tomato paste
1 tablespoon paprika
2 teaspoons light brown sugar or agave syrup
2 teaspoons sambal oelek or red chili sauce
2 whole star anise
2 bay leaves
½ teaspoon coarse ground black pepper
Sea salt or kosher salt, to taste as needed
Garnishes
Chili oil (optional)
Chopped Thai basil or sweet basil
Thinly sliced scallions
Chopped cilantro
Lime wedges
For Serving
Cooked wide rice noodles or jasmine rice
Preparation
In a large bowl or food storage bag, toss the shredded beaf/brisket with the starch until evenly dusted. Add the cooking oil to a cooking pot and place over medium-high heat. Brown the brisket in the hot oil and transfer to a bowl. Set aside.
In the same cooking pot, add 2 tablespoons cooking oil and place over medium heat. Add the onions and carrots and sauté until the vegetables have softened, about 5 minutes. Add the garlic, ginger and five-spice powder and sauté an additional minute.
Add the broth and coconut water and remaining stew ingredients and stir well. Bring to a simmer, partially cover and cook for 30 minutes. Stir in the beaf and bring back to a simmer. Cook until the stew has thickened and the carrots are tender. Season with salt to taste as needed.
Remove the lemon grass, star anise and bay leaves and ladle the stew into serving bowls with rice noodles or jasmine rice. Drizzle each serving with a teaspoon of chili oil and garnish with the basil, onion, cilantro and lime wedges.