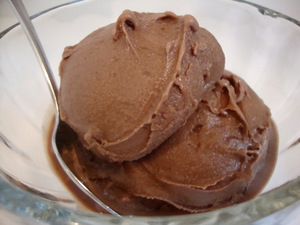 An American classic (but now cruelty-free!)
Ingredients:
• 1 and ½ cup (7.5 oz.) whole raw cashews
• 3 cups water
• 1 and ¼ cup organic sugar
• ⅓ cup unsweetened cocoa or carob powder
• 2 tsp real vanilla extract
• ½ tsp sea salt
• ½ tsp guar gum (optional; helps prevent ice crystallization)
Technique:
Soak the cashews in water for a minimum of 8 hours. Drain and discard the water and add the cashews to a high-powered blender. A the 3 cups of fresh water and process on high speed for a full 2 minutes.
Thoroughly strain the cream through a nut milk bag or through a strainer lined with 4 layers of cheesecloth. Gently massage the bag to help the cream pass through or stir the cream in the strainer with a spoon.
Add the cashew cream back to the blender with the remaining ingredients and process until smooth. Transfer the mixture to a saucepan and cook over medium heat, stirring constantly until the mixture thickens and is heated through. Do not boil.
Remove from the heat and let cool until warm (stir occasionally to prevent a "skin" from forming on the surface).
Pass the mixture through a strainer into a container with a lid and refrigerate until thoroughly chilled.
Process the mixture according to your ice cream maker's instructions. The ice cream will freeze hard when stored in the freezer.
To serve, simply thaw briefly until it reaches the desired texture for scooping.