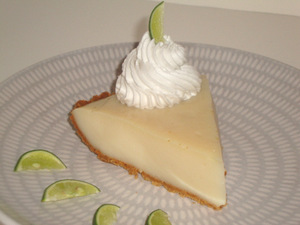 A graham cracker pie shell is filled with a citrusy and refreshing key lime curd. The pie can be topped with Heavenly Whipped Cream (from either of my cookbooks) if desired, as the light coconut flavor pairs nicely with the tanginess of the lime; or simply garnish with additional lime wedges or zest.
For the pie shell, you will need:
• 1 nine-inch Graham Cracker or Cookie Crumb Pie Shell
Ingredients for the pie filling:
• 1 carton (12.3 oz.) firm or extra-firm silken tofu
• 1 and ¼ cup organic sugar
• 1 cup water
• ¾ cup fresh key lime or regular lime juice
• 5 T cornstarch or arrowroot powder
• 1 T fresh grated key lime zest
• ¼ tsp sea salt
Technique:
Preheat the oven to 375°F. Bake the pie shell for 12 minutes. Remove and set aside to cool.
In a blender, process the pie filling ingredients until smooth. Pour the blender contents into a large saucepan and cook over medium heat, stirring frequently with a rubber or silicone spatula and scraping the sides of the saucepan as you stir. The mixture will be foamy and milky in appearance. Stir constantly as the mixture begins to thicken. Keep stirring until the mixture begins to bubble and the milky and foamy appearance transforms into a thick and gelatinous lime curd.
Pour the filling into the pie crust, smooth the top gently with a rubber/silicone spatula or the back of a spoon and place in the refrigerator uncovered for 2 hours until the top of the pie is firmly set. After 2 hours, cover with plastic wrap. Garnish with Heavenly Whipped Cream or a commercial vegan whipped topping and lime wedges or zest, if desired, before serving.