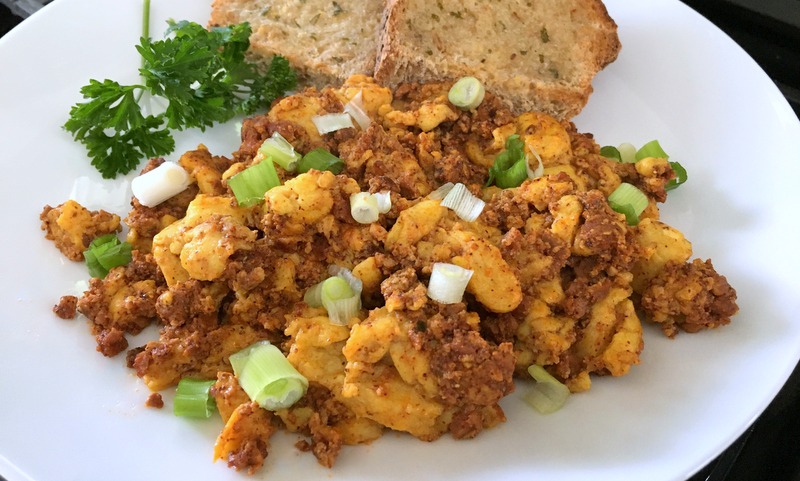 Crumbly Mexican Soy Chorizo with Vegan Eggz Scramble
Seasoning Blend
2 tablespoons ancho chili powder (mild)
2 teaspoons onion powder
1 teaspoon garlic powder
1 teaspoon smoked paprika
1 teaspoon dried oregano
½ teaspoon ground cumin
½ teaspoon ground coriander
½ teaspoon chipotle chili powder (spicy hot), or more to taste
Base Ingredients
5 oz pressed extra-firm tofu, finely crumbled
½ cup Textured Vegetable Protein (TVP)
Liquid Ingredients
6 tablespoons water
3 tablespoons tamari, soy sauce or Bragg Liquid Aminos™
2 tablespoons tomato paste
2 tablespoons olive oil
1 tablespoon red wine vinegar or apple cider vinegar
Preparation
Combine the seasoning blend ingredients in a bowl with the dry TVP granules. Set aside.
In a separate bowl, mash and finely crumble the tofu with a fork. Set aside.
Whisk together the liquid ingredients in a medium saucepan and bring to a brief boil. Add the seasoned TVP granules, cover and set aside to rehydrate for 10 minutes.
Fold in the crumbled tofu until blended through evenly. Refrigerate in an airtight container to allow the tofu to absorb color and seasonings and to blend the flavors. Store up to 1 week in the refrigerator or in the freezer for longer storage. Crumble and brown the mixture in a well-oiled skillet and use in recipes as desired.

Crumbly Mexican Soy Chorizo