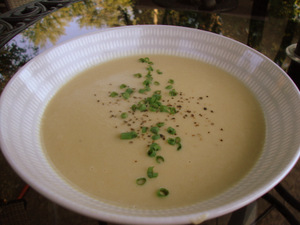 This velvety, delicious soup makes an elegant first course or light supper. This recipe yields about 6 cups.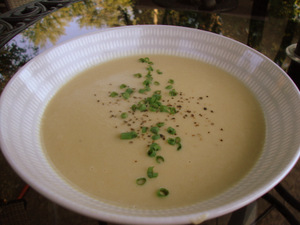 | | |
| --- | --- |
| | |
If using fresh Brussels sprouts, trim the tough stems and outer leaves. Frozen sprouts should be thawed before using.

In a large soup pot, bring the butter, chik'n broth, white wine, Brussels sprouts and onions to a rapid simmer. Immediately reduce the heat to a gentle simmer. Partially cover and cook for 30 minutes.

Transfer the mixture to a blender, cover and begin processing on low speed. Hot liquids can expand explosively if the blender is immediately run on high speed, so start on low and hold the lid on the blender with a dish towel for safety). Increase the speed to high and process until smooth.

Return the purée to the soup pot and add the nutmeg and white pepper. Stir in the heavy cashew cream. Add salt to taste. Gently cook on low heat until heated through, stirring frequently. Ladle into soup bowls and garnish with chopped chives if desired.