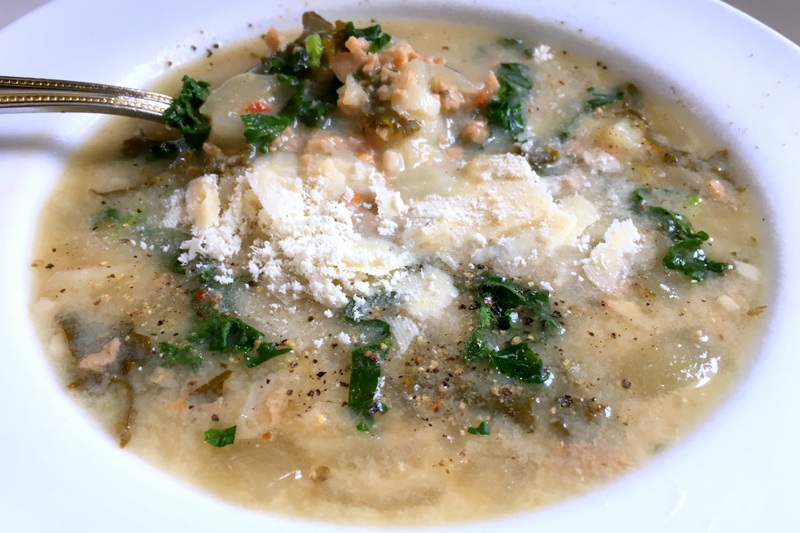 A classic Italian soup prepared with vegan ingredients. The traditional crumbled hot Italian sausage was replaced with textured vegetable protein and classic Italian sausage seasonings, which makes preparation very simple and convenient. Yields 6 to 8 servings. Please note that you can skip the TVP and use commercial or homemade vegan crumbled Italian sausage if you wish – reduce the broth by 1 cup. 
Ingredients
2 tablespoons Bacun Grease or olive oil
1 large onion, chopped
4 cloves garlic, minced
1 teaspoon ground fennel
½ teaspoon dried basil
½ teaspoon dried oregano
½ teaspoon crushed red pepper flakes
5 cups vegan chikun broth
4 medium russet potatoes, peeled and diced
¾ cup dry TVP granules or broken Butler Soy Curls™
1 small bunch curly kale, leaves stripped and chopped
1 cup soy cream or cashew cream (Non-Dairy Evolution or Cook and Let Live), or equivalent
Sea salt or kosher salt, to taste
Coarse ground black pepper, to taste
¼ cup grated Hard Parmesano (Cook and Let Live) or commercial vegan parmesan, for serving
Preparation
In a soup pot over medium heat, sauté the onion in the bacun grease or oil until translucent. Add the garlic and herbs and spices and sauté an additional minute.
Add the broth, potatoes and TVP. Bring to a simmer and cook partially covered, until the potatoes are tender, about 30 minutes.
Stir in the kale and cook until leaves are tender and bright green, about 5 minutes. Stir in the cream and simmer 5 minutes more.
Season with salt and pepper to taste and garnish with the Parmesan.

Zuppa Toscano - Vegan Italian "Sausage" Potato Kale Soup