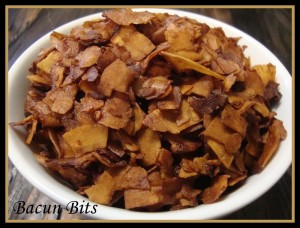 This recipe yields 1 cup of deliciously sweet, salty and smoky vegan bacon bits, which are ideal for topping salads or eggless egg recipes, such as omelettes, scrambles or vegan deviled "eggs". However, these crispy bits are not recommended for prolonged cooking in moist dishes such as casseroles or quiches, as the coconut will rehydrate and produce an undesirable texture.
Ingredients:
• 1 cup dried unsweetened coconut flakes (I recommend Bob's Red Mill™ brand)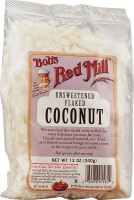 Seasoning ingredients:
• 2 T tamari, soy sauce or Bragg Liquid Aminos™
• 1 T dark brown sugar or real maple syrup
• 2 tsp liquid smoke
• 1 tsp vegan Worcestershire sauce (preferably from my recipe which can be found in The Gentle Chef Cookbook)
Technique:
In a bowl, whisk together the seasoning ingredients until the sugar is dissolved. Add the coconut flakes and toss well to evenly distribute the seasoning. Cover and refrigerate for a minimum of several hours, and better overnight, to rehydrate the coconut flakes and absorb the flavors.
Preheat the oven to 350°F.
Line a baking sheet with parchment paper and distribute the seasoned coconut flakes on the parchment paper in a single layer. For a peppery bacun flavor, season with fine ground black pepper. Place the baking sheet in the oven on a middle rack and set a timer for 5 minutes.
Remove from the oven and stir the flakes, again redistributing them in a single layer. This process will need to be repeated every 5 minutes for a total of about 15 minutes for slightly chewy bacun bits, or 20 minutes for crispy bacun bits.
Remove from the oven and let cool. Store in a zip-lock bag or a suitable covered container in the refrigerator until ready to use