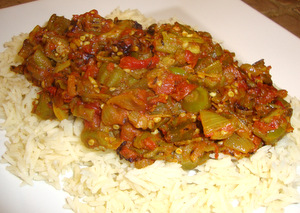 Bhindi masala is a very popular Indian dish consisting of spiced okra, onions and tomatoes. Okra is a powerhouse of nutrition due to its high soluble fiber, vitamin C, and folate content. It's also high in antioxidants and a good source of calcium and potassium. Okra contains a large amount of mucilage: a slimy substance which is responsible for its high soluble fiber content. This gooey mucilage is very evident when okra begins cooking but dissolves when thoroughly cooked and mixed with the acidity of the tomatoes.
Ingredients:
• ¼ cup olive oil, divided in half
• 1 tsp cumin seeds
• 1 large onion, chopped
• 1 medium green chili, finely diced (mild or hot, your choice)
• 1 lb. fresh okra (bhindi) cut into ½-inch pieces
or a 1 lb. bag of frozen cut okra, thawed
• 1 tsp sea salt or kosher salt
• 4 tsp coriander powder
• ½ tsp turmeric
• ½ tsp dry ground mustard
• ¼ tsp chili powder (mild or hot, your choice)
• large tomatoes, peeled and chopped * or 1 can (15 oz.) diced tomatoes
*To peel fresh tomatoes, drop them in boiling water for 1 minute and then immediately transfer to an ice water bath; the skins will slip off easily.
Technique:
Heat 2 tablespoons of the oil in a large skillet over medium-high heat. When hot, add the cumin seeds and cook for about 30 seconds.
Add the remaining 2 tablespoons of oil and the onion and green chili. Sauté until the onions are translucent. Add the okra and salt and cook, stirring frequently, until the vegetables begin to lightly brown, about 15 minutes. The okra will be very slimy – this is normal.
Now, stir in the masala (coriander, turmeric, mustard powder and chili powder) and cook for 5 minutes.
Add the chopped tomatoes, mix well and continue to cook until the tomatoes are cooked through and any excess moisture has been evaporated, about 15 to 20 minutes; the mixture should resemble a thick stew.
Add additional salt to taste and serve hot.
Bhindi Masala (Indian-Spiced Okra)