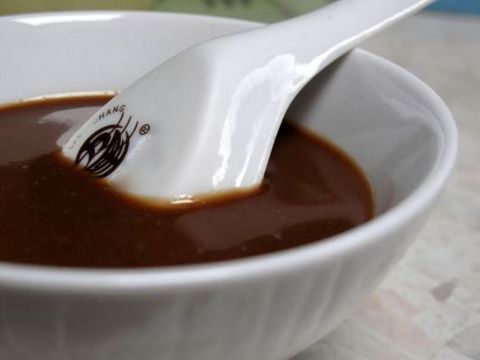 Hoisin is a thick, aromatic condiment sauce with a salty and sweet flavor. It is commonly used in Chinese cuisine as a grilling glaze (superb for seitan, tempeh and tofu); as an addition to stir fries; or as dipping sauce (try it with spring rolls). It is also used as a condiment for phở, the classic Vietnamese soup. My homemade variation contains no added sugar, starch, gums, starches, colors or preservatives, unlike most of its commercial counterparts, since the fruit naturally sweetens and thickens the sauce. This recipe yields about 1 and ½ cup.
Ingredients:
• 1 cup dark seedless raisins
• ⅔ cup water
• ⅓ cup tamari, soy sauce or Bragg Liquid Aminos™
• 2 T rice vinegar
• 1 clove garlic, chopped
• 2 tsp sesame oil
• ¼ tsp crushed red pepper
• ¼ tsp Chinese Five Spice powder
Technique:
Add all the ingredients to a small saucepan and bring to brief boil. Remove from the heat and let the mixture cool. Add the mixture to a blender and process until smooth, about 1 minute. Press through a fine mesh sieve back into the saucepan to catch any stray particles. Transfer to a sealable container and store in the refrigerator until ready to use; the sauce will thicken as it chills. Due to its salt and vinegar content, the sauce should remain preserved and fresh for a few weeks.