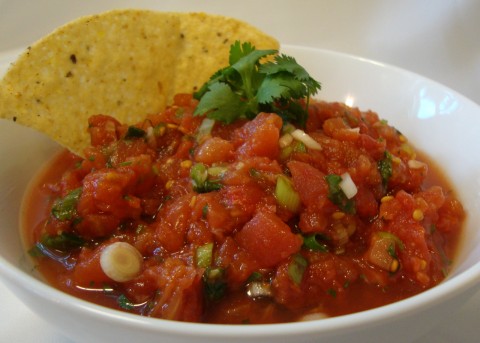 This fresh chunky garden salsa has a medium heat which can be adjusted to suit your taste. I chose canned whole tomatoes because they are partially stewed during the canning process, thus producing a superb texture for salsa. It's very easy to make and so much better than store-bought. This recipe yields about 4 cups.
Ingredients:
• 2 cans (28 oz each) whole tomatoes
• 3 large scallions or 6 small scallions, white and green parts, finely chopped
• 2 large cloves garlic, finely minced (or 1 for timid palates)
• juice of 1 lime
• 1 small Serrano or jalapeno pepper, finely minced (about 1 T), or more to taste
(for a fiery salsa try including the seeds; for a milder salsa reduce or omit)
• ¼ cup chopped cilantro, or more to taste
• ¾ tsp fine sea salt or kosher salt, or more to taste
• ½ tsp ground cumin
Technique:
Remove the tomatoes from the can and finely dice, reserving any juice in the can for other uses, if desired. The tomatoes themselves contain a great deal of juice, so use a cutting board with irrigation channels if you have one; if not, dice 1 or 2 tomatoes at a time. Place the diced tomatoes in a mixing bowl and toss together with the remaining ingredients. Refrigerate for several hours to blend the flavors, ideally overnight.
Taste and add additional salt before serving, as desired. The salsa will keep for about 10 days in the refrigerator. Serve with your favorite tortilla chips; or use as a topping for your favorite Mexican or Tex-Mex recipes.
Chef's Favorite Garden Salsa