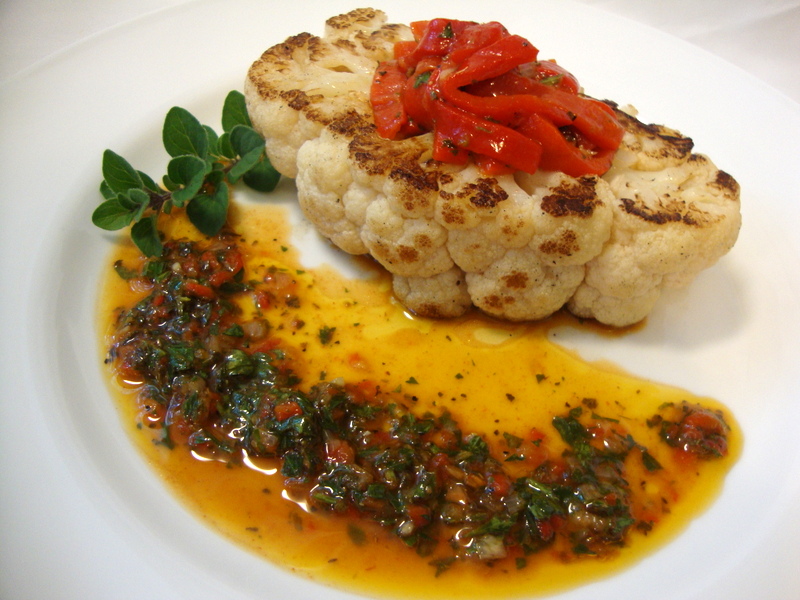 Chimichurri is an aromatic herb sauce that originated in Argentina and is traditionally used for grilled meat. In vegan gastronomy, it can be used as a sauce for grilled seitan, tofu, tempeh, portabella mushrooms or cauliflower "steak". It's also wonderful as a dip for crusty bread or for marinating cooked beans.
Ingredients:
• ¼ cup water
• ¼ cup white wine vinegar or champagne vinegar
• 2 T red wine vinegar
• 2 cups chopped flat leaf parsley, loosely packed
• ½ cup roasted red pepper, skin removed plus additional for garnish if desired
• ¼ cup fresh chopped oregano, loosely packed or 4 tsp dried oregano
• 1 shallot, chopped
• 2 cloves garlic, chopped
• 1 tsp minced habanero or jalapeno pepper
• 1 tsp sea salt or kosher salt
• 1 tsp sweet paprika
• ¼ tsp ground cumin
• ½ cup extra-virgin olive oil
Technique:
Process all ingredients in a food processor but leave little bit of texture. Add salt as needed to taste. Store the sauce in an airtight container in the refrigerator until ready to use; shake well to re-emulsify before using.