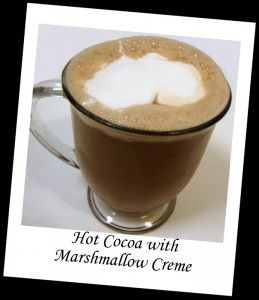 Kids will love this and your "inner child" will love it too. This recipe yields 4 cups or 1 quart of the finest chocolate cashew milk or hot cocoa. Chocolate cashew milk has a brief refrigerator storage life, so consume within 3 to 4 days (this has never been an issue in my home). Shake or stir well before serving.
For hot cocoa, gently heat in a saucepan on the stove – do not boil! Cashew milk makes a wonderful base for hot cocoa because it has a tendency to thicken slightly when heated. Top the hot cocoa with Marshmallow Creme (recipe in this blog) or Heavenly Whipped Cream (from my cookbooks) if desired.
Ingredients:
• 1 cup (5 oz. by weight) whole raw cashews
• 4 cups water
• ½ cup organic sugar, or more to taste
• ⅓ unsweetened cocoa powder
• 1 tsp real vanilla extract
• ½ tsp fine sea salt (optional)
You will also need a high-powered blender and a nut milk bag or fine mesh strainer lined with 4 layers of cheesecloth to strain any residual solids from the milk.
Technique:
Soak the nuts for a minimum of 8 hours in the refrigerator with enough water to cover. Drain the nuts, discarding the soaking water. Add the nuts to a high-powered blender with 4 cups of fresh water. Process the mixture on high speed for 2 full minutes.
The milk will now need to be strained to remove the solids. To do this, wash your hands thoroughly and then pour the milk into the nut milk bag over a large bowl or pitcher. While holding the top of the bag with one hand, gently knead and squeeze the bag to help the milk pass through the ultra-fine mesh.
Optionally, the milk can be poured (in increments) into a strainer lined with 4 layers of cheesecloth. Stir the milk gently with a spoon to help it pass through the cheesecloth.
Pour the strained milk back into the blender and discard or compost the solids in the bag or cheesecloth.
Add the sugar, cocoa powder, vanilla and salt to the blender and process until smooth. Store the milk in a covered container in the refrigerator until ready to serve or heat on the stove. Chocolate cashew milk has a tendency to separate, so shake well or stir before using.
Chocolate Cashew Milk or Hot Cocoa