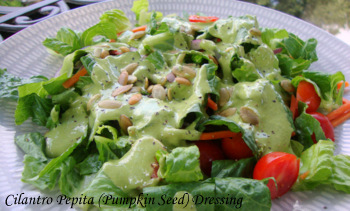 A creamy dressing with a South of the Border taste; its' beautiful pale green color and fresh herbal flavor will brighten up any green salad. Anaheim green chilies are very mild; if necessary, canned green chilies can be substituted for fresh.
Ingredients:
• 2 medium Anaheim chilies, roasted, peeled and seeded
• ¾ cup vegetable oil
• ¼ cup red wine vinegar
• ⅓ cup roasted pepitas (pumpkin seeds with shells removed), plus additional for garnishing the salad
• ¼ cup water
• 3 cloves fresh garlic (1 T minced)
• ½ tsp coarse ground black pepper, or more to taste
• ½ tsp sea salt or kosher salt, plus additional to taste as desired
• 2 bunches fresh cilantro
• 1 cup No-Eggy Mayo (from either of my cookbooks)
Technique:
Place all ingredients except for the cilantro and mayonnaise into a blender. Blend approximately 10 seconds. Pack in the cilantro and continue to blend until smooth.
Add the mayo and blend briefly to combine. Season with additional salt and pepper as desired.
Pour into an airtight container and refrigerate until ready to serve. Add small amounts of additional water to thin to desired consistency, if needed.
Use additional whole pepitas to garnish the salad before serving.
Cilantro Pepita (Pumpkin Seed) Salad Dressing