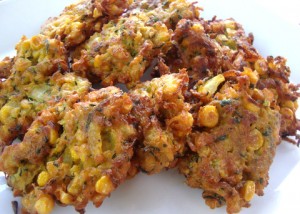 Shredded zucchini, sliced onion and corn kernels are seasoned with curry and fried until crisp and golden brown. This recipe yields about 1 dozen fritters.
Ingredients:
• 2 average-size zucchini (about 7 to 8 inches long)
• 1 can (about 15 oz. or 1 and ½ cup) organic corn kernels, drained very well
• ½ of a medium onion, sliced very thin and then coarsely chopped
• ½ cup garbanzo bean (chickpea) flour plus more if needed
• 1 tsp curry powder
• ¾ tsp sea salt or kosher salt (plus 1 tsp for salting the zucchini)
• ½ tsp coarse ground black pepper
Technique:
Shred the zucchini with a standard vegetable grater or using the shredding blade on a food processor. Transfer the shreds to a large mixing bowl, add 1 teaspoon salt, stir well and set aside for 15 minutes. The salt will help draw out the moisture from the zucchini.
Pour off any excess liquid and place the shreds in a clean, lint-free kitchen towel or several layers of cheesecloth. Gather up the edges at the top and twist securely closed. Twist and squeeze the bundle into the sink to remove as much liquid as possible. Transfer the shreds back to the mixing bowl and set aside.
Add the well-drained corn kernels to a food processor fitted with a standard chopping blade and pulse the contents 4 times. The goal is to break up the majority of the corn, releasing the starch while still leaving some kernels intact. DO NOT over-process! Transfer the corn to the mixing bowl.
Add the onions, ½ cup garbanzo bean flour, curry, ¾ tsp salt and the black pepper. Stir thoroughly until a thick batter is created. If the mixture seems too loose, add 2 tablespoons additional flour. Set the mixture aside.
In a wok or deep skillet, heat ½-inch oil over medium-high heat. When the oil begins to shimmer, test the batter by carefully placing 1 heaping tablespoon of the batter carefully into the hot oil. After 1 minute, gently press down on the fritter with the back of a spoon to flatten it.
Continue to fry for a few minutes unto golden brown on both sides. Use 2 large spoons to help turn the fritter; this will prevent splashing of the hot oil. If the fritter holds together, repeat the process, working in batches to avoid overcrowding the skillet. If the fritter falls apart, use a slotted spoon to remove it from the oil and add a little bit more flour to the mixture to help it hold together.
Transfer the fritters to a plate lined with paper towels to absorb any excess oil. If necessary, reheat the fritters in a 350°F oven until hot. Serve immediately.

Curry Zucchini Corn Fritters