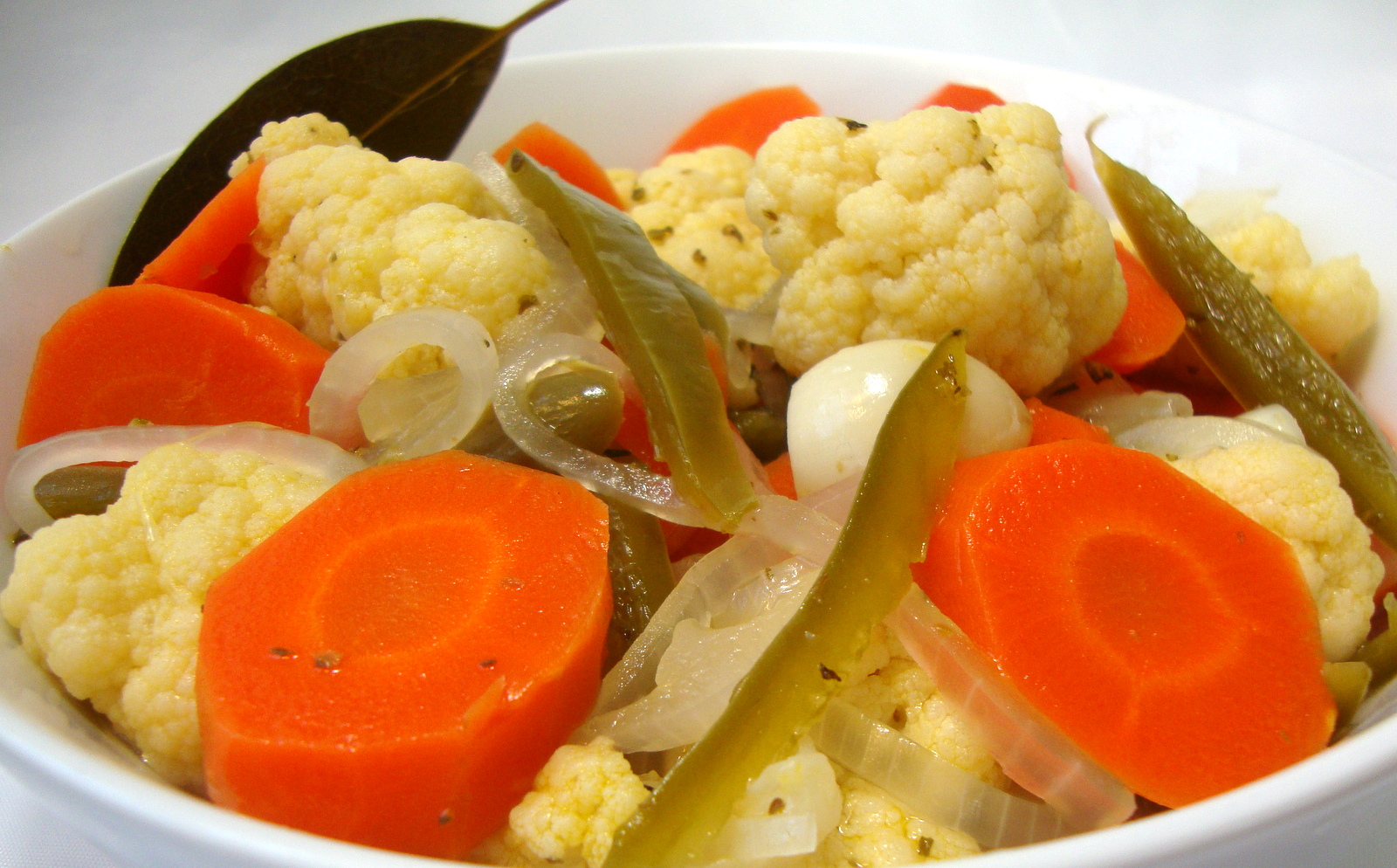 "Escabeche" is the Spanish word for "pickle". This simple but zesty combination of crunchy pickled vegetables is a favorite for serving with Mexican cuisine.
Ingredients
• 2 T olive oil
• 1 large yellow or white onion, peeled and thinly sliced
• 3 large carrots, peeled and sliced
• florets from 1 small cauliflower
• 12 whole cloves garlic
• 3 large jalapeno or serrano chilies, seeded, membrane removed and sliced lengthwise into slivers
• 3 T coarse sea salt or kosher salt
• 2 and ½ cups water
• 1 cup champagne vinegar, white wine vinegar or distilled white vinegar
• 1 T organic sugar
• 2 bay leaves
• ½ tsp dried oregano
• ½ tsp dried marjoram
• ½ tsp dried thyme
Technique
Add the olive oil to a large cooking pot and place over medium-low heat. Add the vegetables and salt and sweat the mixture for about 10 minutes until softened. Keep the heat on the low side to avoid browning the vegetables.
Add the water, vinegar, sugar and herbs and bring to a rapid boil. Cover the pot and remove from the heat to cool. When cooled, divide the mixture between 2 one-quart jars (be sure to include a bay leaf into each jar), seal and refrigerate for a minimum of 3 days before serving (the longer the better). The refrigerated escabeche will last for a few months stored in this manner.
To seal the jars and preserve the escabeche for pantry storage, removing the pot from the heat. Carefully divide the hot mixture between 2 one-quart mason jars (be sure to include a bay leaf in each jar). Put the lids in place and tighten the lid rings. Invert the jars for 10 minutes. After 10 minutes, upright the jars and slightly loosen the lid rings. Let the jars rest and cool until the lids "pop" and seal shut. Retighten the lid rings and store the jars in your pantry until ready to use.

Escabeche (Mexican Spicy Pickled Vegetables)