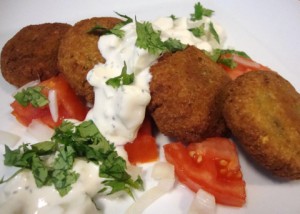 Falafel is a small, deep-fried patty made from ground chickpeas and a blend of herbs and spices. For my own signature version, I also incorporate ground split peas (which is optional) and season with my own blend of spices. Falafel is a traditional Arabic food, usually served in a pita, which acts as a pocket, or wrapped in a flatbread and topped with various sauces and vegetable garnishes. This recipe yields about 16 falafel patties.
Ingredients for the falafel:
• ¾ cup dried chickpeas and ¼ cup dried yellow or green split peas
– or 1 cup dried garbanzo beans (chickpeas)
• ¼ cup diced onion
• 4 cloves garlic, chopped
• 1 and ¼ tsp sea salt or kosher salt
• 1 tsp minced fresh rosemary or ¼ tsp dried powdered rosemary
• 1 tsp ground cumin
• 1 tsp ground coriander
• ¼ tsp red pepper flakes
• 6 T garbanzo bean (chickpea) flour or soy flour
• 2 T olive oil
• ½ tsp coarse ground black pepper
• ¼ cup chopped fresh parsley, loosely packed
Other ingredients needed:
• vegetable oil for frying
• pita or flat bread
• Tzatziki sauce, Tahini Sauce and/or Hummus
• thinly sliced onion
• sliced cucumbers
• chopped tomatoes
Technique:
Place the dried chickpeas and split peas (or chickpeas alone) in a large bowl and add enough cold water to cover them by at least 2 inches. Let them soak for 24 hours, then drain thoroughly. DO NOT use canned chickpeas.
Place the drained, soaked chickpeas and split peas, onion, garlic, salt, rosemary, cumin, coriander and red pepper flakes in the bowl of a food processor fitted with a chopping blade. Process the mixture until all the peas are coarsely ground. Remove the lid and scrape down the peas as necessary to incorporate them into the mixture. DO NOT purée! It is important to retain a "grainy" texture".
Sprinkle in the garbanzo bean (chickpea) flour, olive oil, black pepper and parsley and pulse the mixture several times to combine. Turn the mixture into a bowl and refrigerate, covered, for a minimum of 30 minutes.
Form the chickpea mixture into balls about the size of walnuts and then gently press to flatten into small patties. The mixture will be moist and some will stick to your fingers, so keep a moist towel on hand while you work. Place the patties on a plate or cutting board.
In a deep skillet or wok, heat ½-inch of oil to 375°F, or for a full 5 minutes on medium-high heat. Fry the patties in batches for about 1 to 2 minutes on each side, or until golden brown. Drain on paper towels.
Stuff half a pita with 3 falafel patties or serve on a plate. Garnish with fresh produce and condiment(s) of your choice. Store any remaining falafel in a covered container or zip-lock bag and refrigerate.
To reheat, wrap the falafel securely in foil and place in a 350°F oven for 15 minutes – or briefly reheat in the microwave.