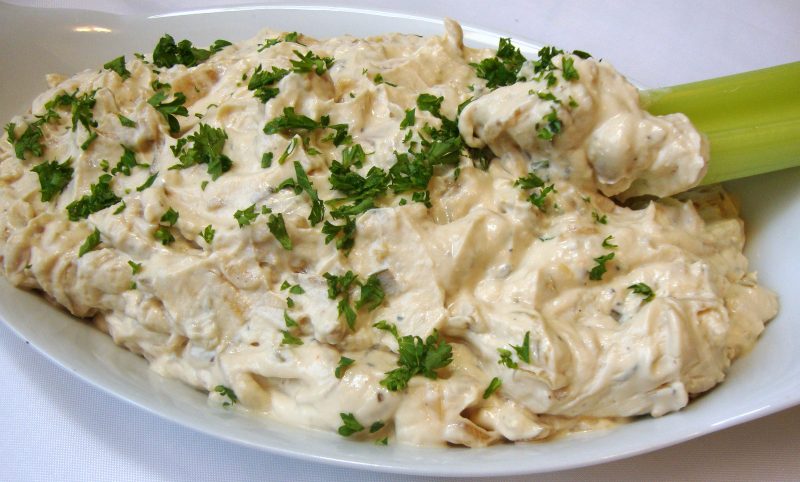 A savory dip made from scratch with caramelized onions and leeks. Serve with crudités, chips or crackers. This recipe yields about 2 and ½ cups.
Ingredients
• 2 T olive oil
• 1 large sweet yellow onion, peeled
• 1 medium leek, white and light green part only
• 2 cloves garlic, minced (2 tsp)
• 1 T tamari, soy sauce, tamari or Bragg Liquid Aminos™
• 1 tsp vegan Worcestershire Sauce
• ¼ tsp coarse ground black pepper, or more taste
• ¼ tsp dried thyme leaves
• 1 cup non-dairy sour cream
• 1 cup vegan mayonnaise
• sea salt or kosher salt to taste, if needed
• chopped parsley for garnish (optional)
Preparation
Slice the onions very thin (a mandoline is very helpful) and then chop. Split the leek lengthwise; rinse well to remove any sand and then thinly slice crosswise into "half-moons".
Add the olive oil to a non-stick skillet and place over medium heat. Add the onions and leeks and a pinch of salt and sauté until golden.
Add the garlic, tamari, Worcestershire, black pepper and thyme and continue to sauté until the vegetables are very soft and nicely caramelized. Transfer to a container and refrigerate until chilled.
In a medium mixing bowl, combine the caramelized onion and leek mixture with the sour cream and mayonnaise and mix well. Taste and add salt as needed and additional pepper to taste. Transfer to a serving bowl, cover and chill to blend the flavors. Garnish with chopped parsley before serving if desired.

French Onion and Leek Dip