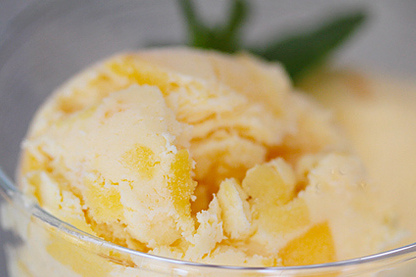 Heavy cashew cream and puréed fruit form the base for this delightful frozen treat. An ice cream maker is required for this recipe.
Ingredients:
• 1 cup (5 oz. by weight) whole raw cashews
• 2 cups non-dairy milk of your choice
• ¾ cup organic sugar
• ½ tsp guar gum
• 2 cups chilled fruit purée, smooth or semi-chunky
Technique:
Place the cashews and milk into a container with a lid, seal and place in the refrigerator to soak for a minimum of 8 hours. After soaking, place the ingredients in a high-powered blender and process on high speed for 2 full minutes.
The cream will now need to be strained to remove the solids. To do this, wash your hands thoroughly and pour the cream into the nut milk bag over a large bowl or pitcher.
While holding the top of the bag with one hand, gently knead the bag to help the cream pass through the ultra-fine mesh – avoid forcing the cream through. Discard or compost the solids in the bag.
Optionally, the cream can be poured (in increments) into a strainer lined with 4 layers of cheesecloth. Stir the cream gently with a spoon to help it pass through the cheesecloth.
Pour the heavy cream into a blender and add the sugar and guar gum; process until smooth. Pour the mixture into a container and refrigerate until very cold (or place in the freezer for about 30 minutes).
When well chilled, pour the cream mixture into your ice cream maker and add the chilled fruit purée. Process the mixture according to your ice cream maker's instructions.

Fresh Fruit Ice Cream (Cashew Cream Base)