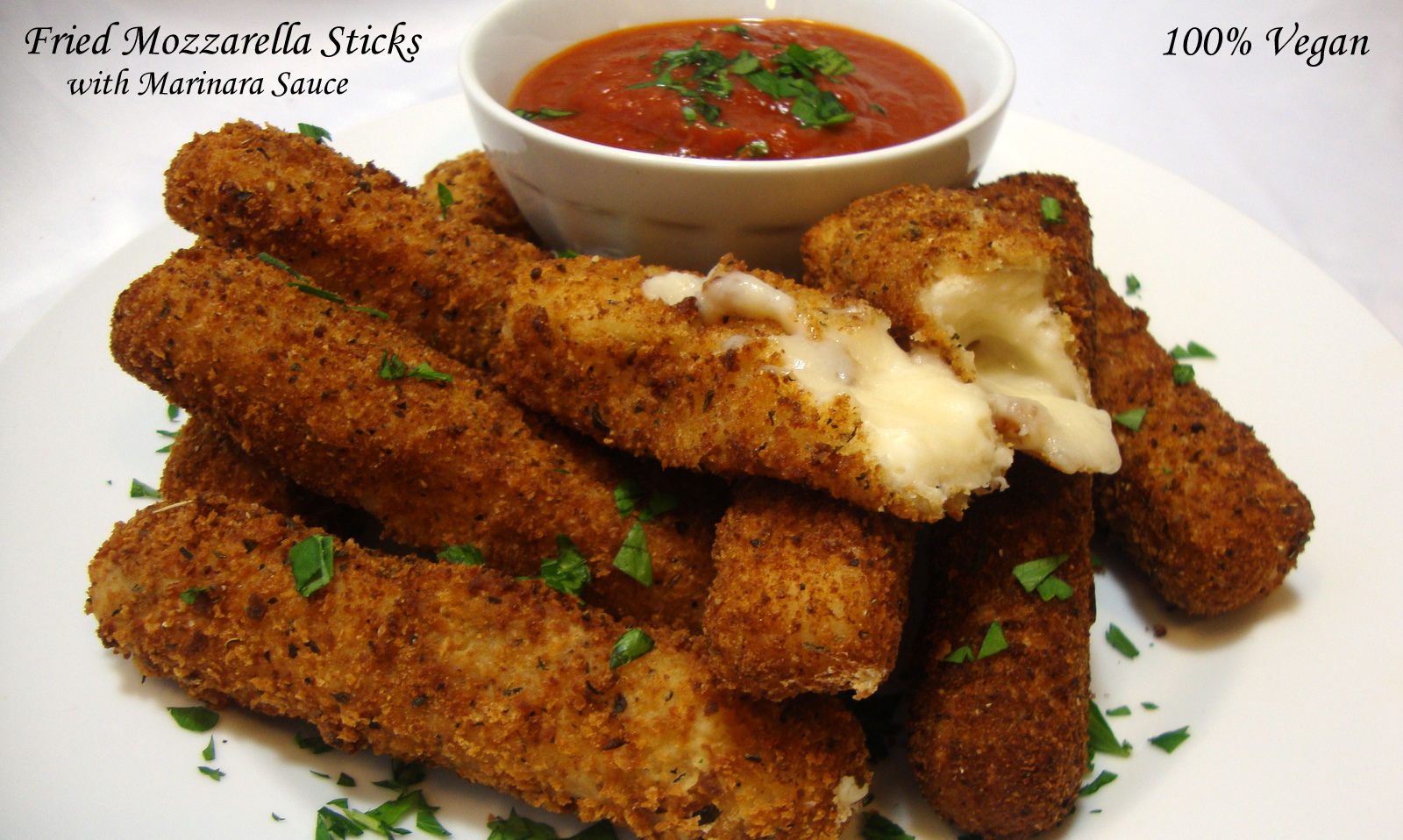 An appetizer favorite, fried mozzarella sticks can also be made with Mozzarella di Campana or di Tuscano (from The Non-Dairy Evolution Cookbook) for additional zesty Italian flavor.
Ingredients
• 1 block Mozzarella Fior di Latte (from the Non-Dairy Evolution Cookbook)
or Mozzarella di Tuscano or di Campana variations
• 1 cup plain unsweetened non-dairy milk
• ½ cup all-purpose flour or rice flour
• 1 T nutritional yeast flakes
• 1 cup plain fine dry breadcrumbs
• ½ cup panko-style bread crumbs
• 1 and ½ tsp fine sea salt or kosher salt
• 1 tsp onion powder
• 1 tsp garlic powder
• 1 tsp dried oregano
• 1 tsp dried basil
• ½ tsp coarse ground black pepper
• high-temp cooking oil, such as grapeseed, safflower, sunflower
• marinara sauce, for dipping
Preparation
Cut the mozzarella into sticks and keep chilled until ready to prepare the breading. Prepare the marinara sauce ahead of time so it can be reheated just before serving the fried mozzarella.
In one bowl, whisk the milk, flour and nutritional yeast together until smooth. Set aside.
In another bowl, combine the breadcrumbs and seasonings.
Dip a mozzarella stick into the milk/flour batter, shake off the excess and roll in the breadcrumbs until thoroughly coated. Handle them gently so as to not dislodge the breading. Place the stick on a plate and repeat with the remaining sticks. If the breading is not adhering completely, repeat dipping in the milk/flour mixture and then the breadcrumbs. It's important to achieve complete coverage. Place the plate into the refrigerator uncovered for 30 minutes to allow the breading to dry a bit and thoroughly chill the mozzarella.
Add 1-inch of oil to a deep skillet or wok and place over medium-high heat. Place the marinara sauce over medium heat to warm while frying the mozzarella sticks.
When the oil begins to shimmer, gently lower a few of the sticks into the hot oil and fry until golden brown. Fry the sticks in batches; remove with a slotted spoon and place on a plate lined with paper towels to absorb any excess oil.
Serve immediately with the marinara sauce. If the sticks need to be reheated, place them in a hot oven for about 10 minutes; they also respond well to brief reheating in a microwave (they heat from within, which is very efficient for melting the cheese).

Fried Mozzarella Sticks (Non-Dairy)