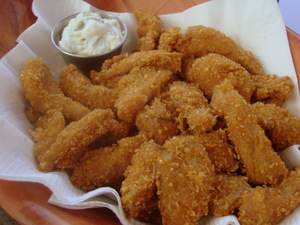 Fried Oyster Mushrooms is my vegan version of fried clams or oysters. I use organic cornflake cereal crumbs for the breading because the light cereal sweetness mimics the sweetness of fried clams and oysters. Regular fine breadcrumbs will work too.
Fresh oyster mushrooms are often difficult to locate and when they are available, they're rather expensive. However, canned oyster mushrooms can be purchased from your local Asian market and are very inexpensive. They also have the perfect texture for this recipe. Canned abalone mushrooms work well too. Serve with vegan tartar sauce or cocktail sauce. Here I've served them with a vegan fire-roasted jalapeno and lime tartar sauce (recipe follows).
Ingredients
• 2 cans (about 7.5 oz. drained weight) oyster mushrooms or abalone mushrooms (available in Asian markets) or 1 lb. quartered fresh oyster mushrooms
• ¼ cup all-purpose flour
• ¼ cup non-dairy milk
• 2 T No-Eggy Mayo (from either of my cookbooks) or commercial vegan mayonnaise
• cornflake crumbs or fine breadcrumbs
• sea salt or kosher salt
• vegetable oil for frying
To make cornflake crumbs, place the cornflakes in a zip-lack or paper bag, seal and crush with your hands. They can also be crushed in a food processor.
Technique:
If using canned mushrooms, drain the water. Remove any tough portion of the mushroom stems and slice the mushrooms into strips.
Place the mushroom strips into a zip-lock bag and add the flour. Seal and shake well to coat the mushrooms.
In a small dish, mix together the milk and mayo until smooth and pour into the zip-lock bag. Add a few pinches of salt, seal the bag and shake until the mushrooms are coated.
Add the cornflake crumbs or the breadcrumbs to a bowl and dredge the mushroom strips in the crumbs until well-coated.
In a deep wok or skillet, heat about 1/2-inch of oil over medium-high heat until the oil begins to shimmer. Fry the mushrooms until golden – they cook quickly, about 30 to 45 seconds, so watch them carefully.
Remove with a slotted spoon and drain on a plate lined with paper towels. Serve hot with the condiment of your choice for dipping.
Fire Roasted Jalapeno and Lime Tartar Sauce
Ingredients:
• 1 large jalapeno pepper
• ½ cup No-Eggy Mayo (pg. ) or commercial vegan mayonnaise
• 2 T minced fresh onion
• 1 tsp fresh grated lime zest and a squeeze of fresh lime juice
• sea salt or kosher salt to taste
Technique:
Place the jalapeno directly on the stove burner over medium heat. Turn frequently with tongs until the pepper is blistered and blackened. Place the pepper in small zip-lock or paper bag and seal to hold in the steam. Let cool. The skin should slip off easily. Cut off the stem end, split the jalapeno lengthwise and remove the seeds. Finely mince and add to a small bowl.
Add the mayo, onion, the lime zest and a squeeze of lime juice. Mix well and season with salt to taste. Refrigerate to blend flavors and until ready to serve.
Fried Oyster Mushrooms with Fire-Roasted Jalapeno Lime Tartar Sauce