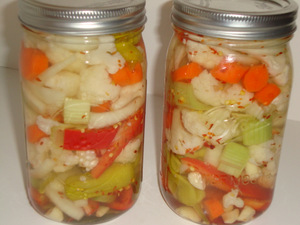 Giardiniera (pronounced jar-dih-nair-ah) is an Italian-Amercian condiment of pickled vegetables. Commercial giardiniera is a bit too "vinegary" for my taste, so I created my own blend which is nicely pickled and seasoned but not over-powering. The vegetables are wonderful served "as is" or they can be drizzled with olive oil just before serving. Allow a minimum of 1 week for sufficient pickling.
For the brine, you will need:
2 bay leaves
6 cloves garlic, chopped and divided in half
1 tsp dried oregano, divided in half
1 tsp red pepper flakes, divided in half
3 cups filtered or spring water
½ cup white vinegar
3 T sea salt or kosher salt
1 T organic sugar
For the vegetables, you will need:
1 small head cauliflower, cut into florets
2 large carrots, peeled and thickly sliced
2 large ribs celery, thickly sliced
1 red bell pepper, seeded and sliced lengthwise into spears
1 medium onion, halved and sliced
12 whole pickled Greek pepperoncini (from a jar)
optional: pimento stuffed green olives
You will also need 2 large mason jars (home canning jars) with lids and lid rings (or other suitable glass containers with lids).
Technique:
Place 1 bay leaf, 3 cloves chopped garlic, ½ teaspoon dried oregano and ½ teaspoon red pepper flakes in the bottom of each jar. Set aside.
Prepare the brine by mixing the water, vinegar, salt and sugar in a non-metal container. Stir with a plastic or wooden spoon until the salt and sugar dissolves. Set aside.
Bring 4 cups of water to a boil in a pot and blanch the carrots and cauliflower for 1 minute. Drain in a colander.
Divide the vegetables in half (approximately) and begin layering and gently packing them into the 2 jars. Pour in the brine to the top of each jar and seal with the lids. Refrigerate for a minimum of 1 week (the longer, the better), turning the jars over occasionally to distribute the seasonings. Serve with a drizzle of olive oil and coarse ground black pepper, if desired.
Giardiniera - Gentle Chef House Recipe