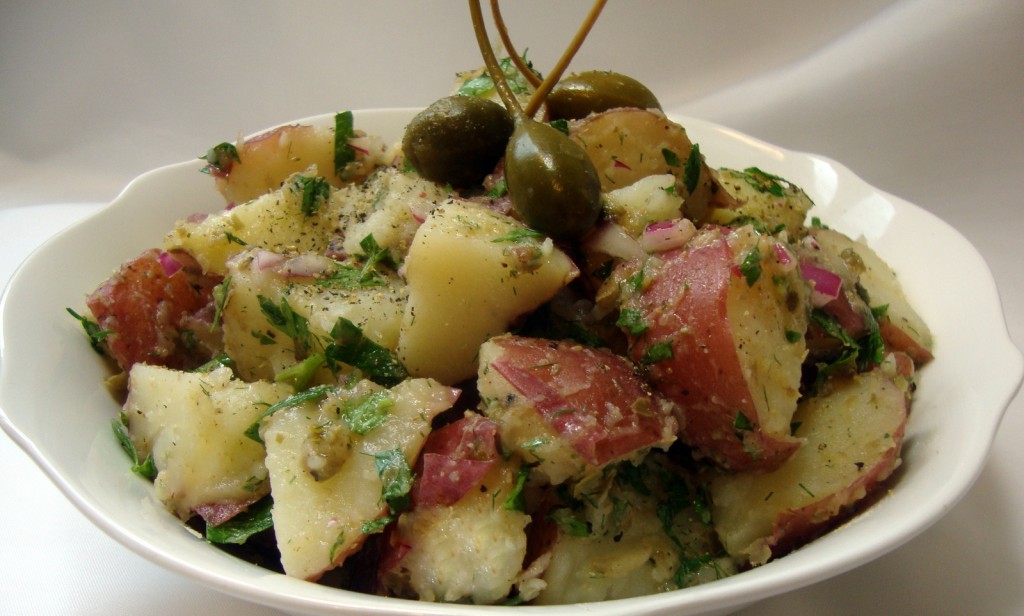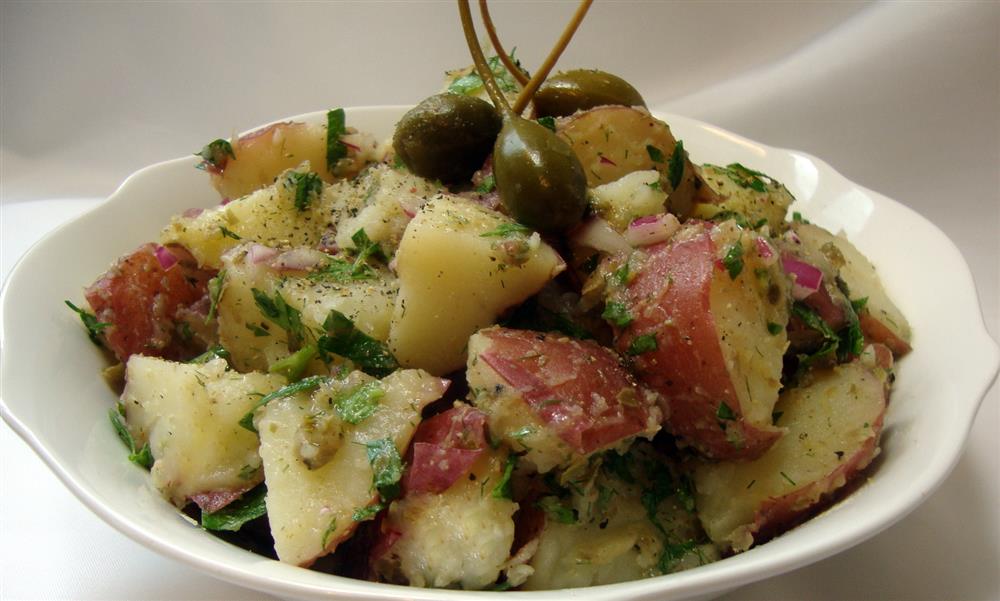 Potato salads tossed with red wine vinaigrette are popular in Greece. The potatoes soak up the dressing and the salad is served warm or at room temperature. The addition of capers and lemon zest impart a citrusy, salty flavor.
Ingredients
• 1 and ½ lbs small red potatoes
• sea salt or kosher salt
• 2 T red wine vinegar
• 2 T extra-virgin olive oil
• 1 tsp ground coriander
• 1 tsp fresh lemon zest
• ½ tsp coarse ground black pepper, or more to taste
• ½ cup chopped fresh flat-leaf parsley
• 2 T finely minced shallot or red onion
• 1 T capers, drained and chopped (salt-packed capers should be rinsed and drained)
• 1 T chopped fresh dill
• caperberries for garnish (optional)
Preparation
Cut the smallest red potatoes in half and cut any larger potatoes into 1-inch chunks. Place the cut potatoes into a large cooking pot and add plenty of water to cover. Add 2 teaspoons salt and bring to a boil. Reduce the heat to a soft boil and cook the potatoes just until fork tender, about 10 to 15 minutes. Avoid overcooking. Drain thoroughly and set aside in a large mixing bowl.
In a non-reactive bowl, whisk together the vinegar, oil, coriander, lemon zest, black pepper and 1 teaspoon salt until emulsified. Pour over the potatoes in the mixing bowl. Sprinkle in the chopped parsley, shallot or onion, capers and dill. Toss thoroughly and set aside for 20 minutes for the potatoes to absorb the dressing; season with additional salt and pepper to taste. Serve warm or at room temperature and garnish with caperberries if desired.