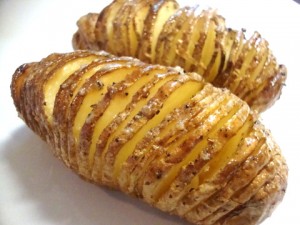 Named after the Stockholm restaurant that first introduced them, Hasselback potatoes have been adopted widely by other European cuisines.
Ingredients:
• Yukon gold or russet potatoes
• 1 T Better Butter (from either of my cookbooks) for each potato
(or substitute with commercial vegan margarine)
• optional: 1 clove of garlic, thinly sliced for each potato
• coarse sea salt or kosher salt, to taste
• coarse ground black pepper, to taste
Optional garnish:
• finely chopped Italian (flat leaf) parsley or minced chives
Technique:
Preheat the oven to 450° F.
Place 2 chopsticks on your cutting surface parallel to each other and place a potato in between them. The chopsticks will be used as a cutting guide to prevent the knife from cutting all the way through the potatoes when slicing. If you don't have chopsticks on hand, use the handle side of 2 table knives. Using a sharp chef's knife, begin making ⅛-inch slices throughout the entire length of each potato.
In a small saucepan, melt the butter over low heat; alternately this can be done in the microwave. Place the potatoes on a baking sheet lined with parchment paper, and with a pastry brush, brush the melted butter into the gaps of every potato. Use your fingers to gently separate the layers if necessary. Make sure that every potato gets a generous amount of the melted butter. Generously season the potatoes with salt and pepper to taste. If using the optional garlic, insert the garlic slices randomly between the potato slices.
Place the potatoes in the preheated oven on a middle rack and cook for 1 hour and 15 minutes until crispy on the outside and tender on the inside. Garnish with fresh chopped Italian parsley or minced chives if desired.