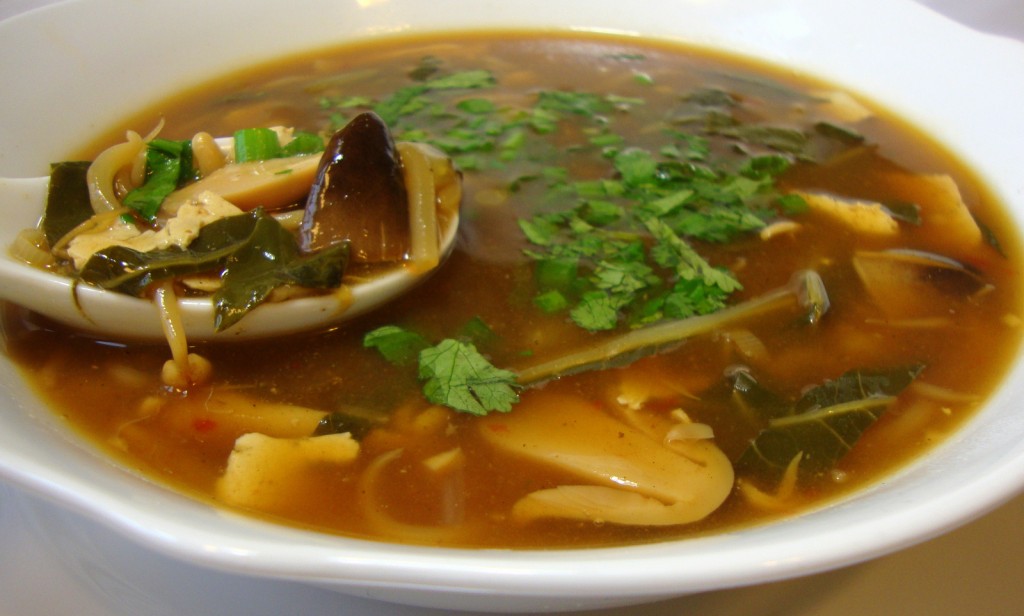 This is my own adaptation of Chinese hot and sour soup. I've eaten many versions of hot and sour soup throughout my life. Some were very good while others were very gelatinous and/or so acidic that the broth burned the back of my throat. I feel I've struck a nice balance of hot and sour and with just enough starch slurry added to create body without being gelatinous. I broke tradition and used tender straw mushrooms rather than the tough and chewy Chinese fungus. I also replaced the bamboo shoots with bean sprouts (although you can certainly use bamboo shoots if you prefer). The tofu was shaved into fragments to resemble cooked egg. Julienned bok choy greens were added and the soup garnished with green onions and cilantro. The heat is created with a blend of ground white pepper and sambal oelek (a Southeast Asian red chili pepper sauce). If desired, shredded porq from my Seitan and Beyond Cookbook can also be added, although I omitted it here.
Ingredients for the Broth
• 8 cups water
• 2 large onions, peeled and quartered
• 3 ribs bok choy (white part only; reserve the greens for the soup)
• 2 large carrots, unpeeled and cut into large pieces
• ½ cup plus 2 T tamari, soy sauce or Bragg Liquid Aminos™
• ¼ cup rice vinegar
• 6 cilantro stems (reserve the leaves for garnish)
• 6 cloves garlic, minced
• 2 T nutritional yeast flakes
• 1 T porcini mushroom powder
• 1 T grated ginger root
• 1 T dark brown sugar
• 2 tsp sambal oelek or Sriracha™
• 1 tsp ground white pepper
Ingredients for the Soup
• ½ block (about 5 oz) pressed extra-firm or firm block tofu (not silken tofu), shaved with a sharp knife into fragments
• 1 can (15 oz) straw mushrooms, drained and halved lengthwise
or 8 oz small button mushrooms, halved
• reserved bok choy greens, julienned into ribbons
• 3 green onions, white and light green parts sliced and set aside in 1 dish
and the greens chopped and set aside in another dish for garnishing
• 1 and ½ cup fresh bean sprouts or 1 can (14 oz) bean sprouts, drained well
• 2 T plus 2 tsp cornstarch, unmodified potato starch or arrowroot powder dissolved in ¼ cup water
• ¼ cup chopped cilantro for garnish
Preparation
Add all broth ingredients to a large soup pot. Cover and bring to a boil. Reduce the heat to a gentle simmer and cook for 1 hour.
With a spider or slotted spoon, remove the large vegetable solids and transfer to a bowl (after the vegetables have cooled a bit, the broth collecting in the bottom of the bowl can be added back to the soup pot). Discard the broth vegetables.
Add the tofu, mushrooms, bok choy greens and green onions (white and light green parts only). Bring the soup back to a simmer, cover and cook for 30 minutes.
10 minutes before the soup is done, add the bean sprouts and stir in the starch slurry to thicken the soup (be sure the broth is simmering). Taste the soup and add salt if needed.
Ladle into individual serving bowls and garnish with the green onions and cilantro.

Hot and Sour Tofu Vegetable Soup