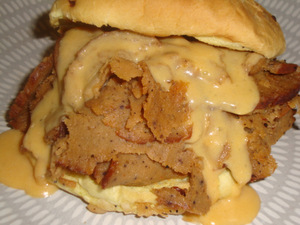 This instant mix is a convenient timesaver for creating a rich and tangy cheddar cheese sauce for topping hot sandwiches or pouring over potatoes, pasta, rice or cooked vegetables. This recipe yields 2 cups of dry mix which will make 8 cups of cheddar cheese sauce.
Ingredients:
• 1 cup nutritional yeast flakes
• 1 cup tapioca flour
• 3 T onion powder
• 3 T tomato powder
• 4 tsp fine sea salt or kosher salt
• 2 tsp lactic acid powder (order from ModernistPantry.com)
• 2 tsp dry ground mustard
• 1 tsp garlic powder
Technique:
Process the ingredients in a DRY blender or food processor until finely powdered. Store the seasoning blend in an airtight container at room temperature in a cool, dry place for up to 6 months.
To make 1 cup of cheese sauce, whisk together in a small saucepan until smooth:
• ¼ cup dry mix
• ¾ cup plus 2 tablespoons plain unsweetened non-dairy milk
(soymilk is recommended)
• 2 tablespoons olive oil
Place the saucepan over medium-low heat and cook the mixture, stirring slowly and continually with a silicone/rubber spatula until the mixture becomes thickened, smooth and glossy. Taste and add salt as desired. Reduce the heat to low to keep warm until ready to serve; stir occasionally.

Instant Cheddar Cheese Sauce Mix