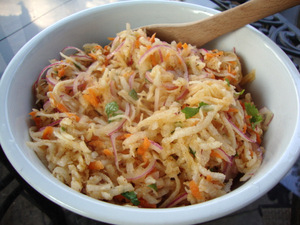 Jicama (pronounced hik-uh-mah) is a large, bulbous root vegetable, weighing one to two pounds. Jicama has a rough brown skin which needs to be peeled before eating. The flesh is white, wet and crunchy, similar to a raw potato but with a slightly sweet and nutty flavor. This refreshing slaw is ideal for cooling the heat of spicy Mexican, Indian or Thai cuisine or simply as a side dish on a hot Summer day.
Ingredients
• 1 large jicama, peeled and shredded
• ½ red onion, shaved thin
• 2 carrots, shredded
• ¼ cup finely chopped cilantro leaves
Dressing ingredients:
• ½ cup light-tasting vegetable oil, your choice
• ⅓ cup unseasoned rice vinegar
• 2 T organic sugar or brown rice syrup
• 2 T fresh squeezed lime juice
• 1 tsp ancho chili powder (or other mild chili powder)
• 1 tsp ground cumin
• 1 tsp sea salt or kosher salt
• ½ tsp coarse ground black pepper
Technique:
In a bowl, whisk together the dressing ingredients; set aside. Place the shredded jicama, red onion and shredded carrots in a large bowl. Pour the dressing over the jicama mixture and toss to coat well (you may not need all of the dressing; just add enough to thoroughly coat the mixture). Fold in the cilantro. Refrigerate until thoroughly chilled, allowing the flavors to merge together.