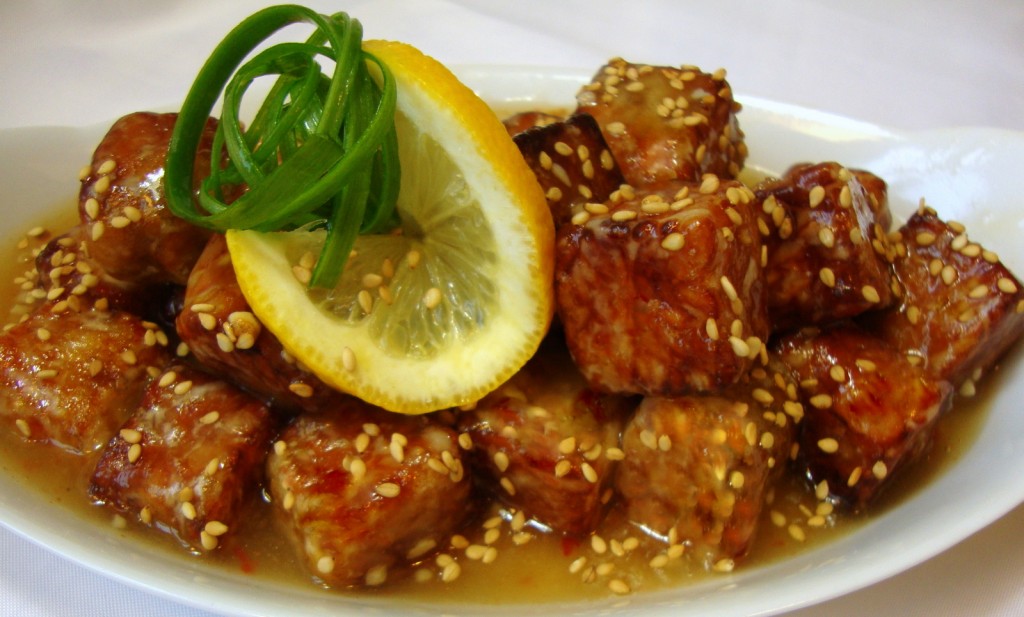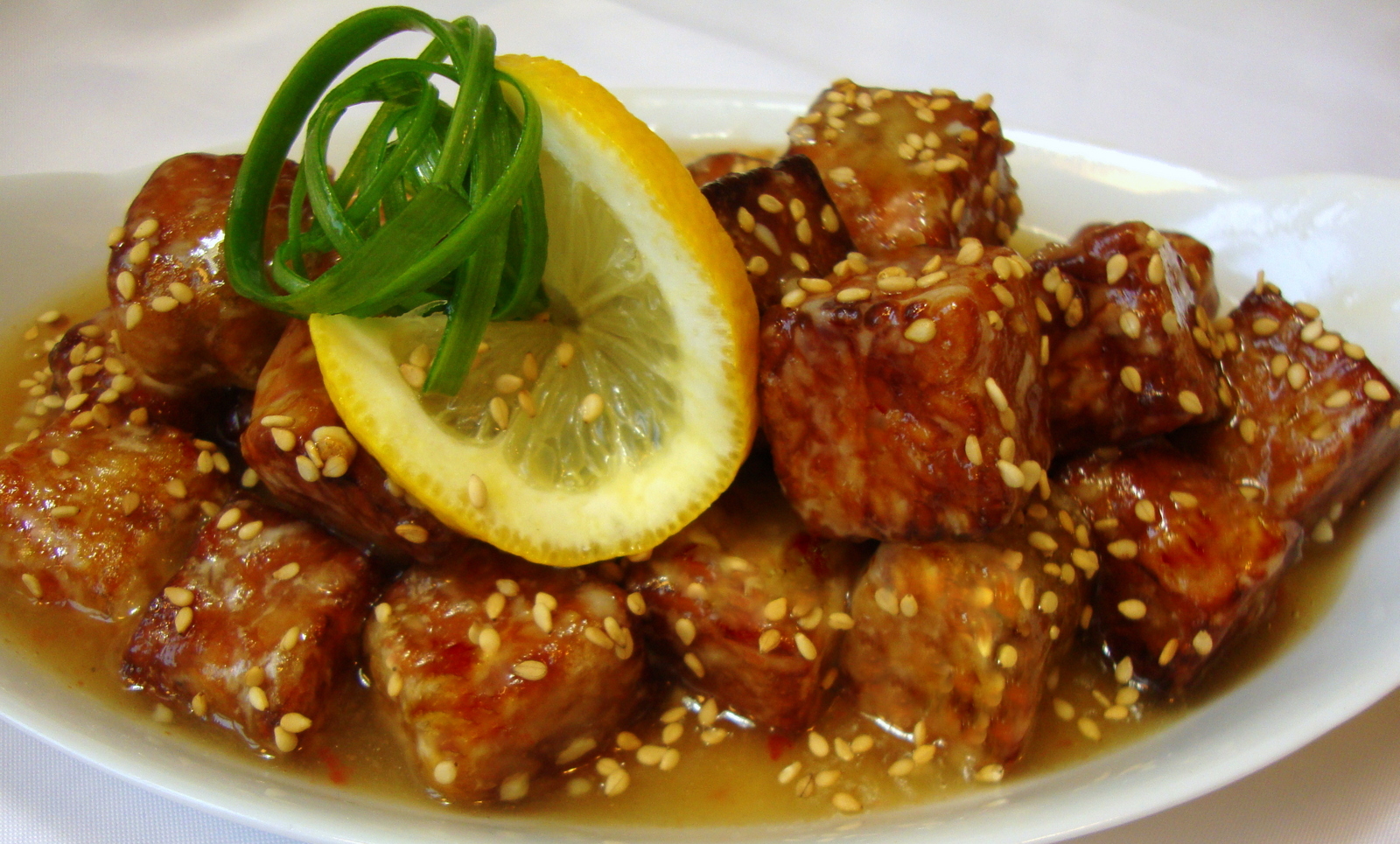 This dish is the vegan variation of Chinese lemon chicken. The tempeh can also be subbed with pressed extra-firm tofu or vegan chikun. The sauce is lemony, sweet, savory and has just a hint of heat.
Ingredients for the Tempeh
• 1 package (8 oz) tempeh (or 8 oz pressed and cubed block tofu or vegan chikun)
• 2 T tamari, soy sauce or Bragg Liquid Aminos™
• 2 T Shaoxing wine or sweet mirin (or water)
• 2 T unmodified potato starch, cornstarch or arrowroot powder
• 2 T all-purpose flour or rice flour
• toasted sesame seeds for garnish (optional)
For the Sauce
• 1 T peanut oil or other cooking oil, plus more for frying
• 2 cloves garlic, minced
• 2 tsp grated ginger
• 1 cup vegan chikun broth or vegetable broth
• ¼ cup fresh lemon juice
• 2 T organic sugar, or to taste
• 1 tsp fresh lemon zest
• 1 tsp sambal oelek, Sriracha™ or other hot red pepper sauce
• 4 tsp unmodified potato starch, cornstarch or arrowroot powder, dissolved in just enough water to create a slurry
• sea salt or kosher salt, to taste
Preparation
Slice the tempeh in half crosswise and simmer in enough water to cover for 10 minutes. This will help soften the tempeh and remove bitterness. Drain on paper towels until cooled. Slice the tempeh into bite-size cubes. Place the cubes into a food storage bag and add the tamari and wine/mirin. Seal and marinate in the refrigerator for a minimum of a few hours and best overnight.
Drain the excess marinade from the bag and add 2 tablespoons starch and the flour. Seal and gently toss to coat evenly. Place on a plate to dry while the sauce is prepared.
Add the 1 tablespoon oil to a medium saucepan and place over medium-low heat. Add the garlic and ginger and sauté for 30 seconds. Add the remaining sauce ingredients except for the starch slurry. Bring to a boil, whisk in the starch slurry and stir until thickened. Taste the sauce and add additional sugar or salt as desired. Reduce the heat to low to keep warm while frying the tempeh.
In a wok or deep skillet, heat 1-inch of oil over medium-high heat. When the oil begins to shimmer, carefully add the cubed tempeh and fry until golden brown. Transfer to a plate lined with paper towels to drain.
Add the fried tempeh to the lemon sauce and toss gently to coat. Serve immediately and sprinkle with the toasted sesame seeds.