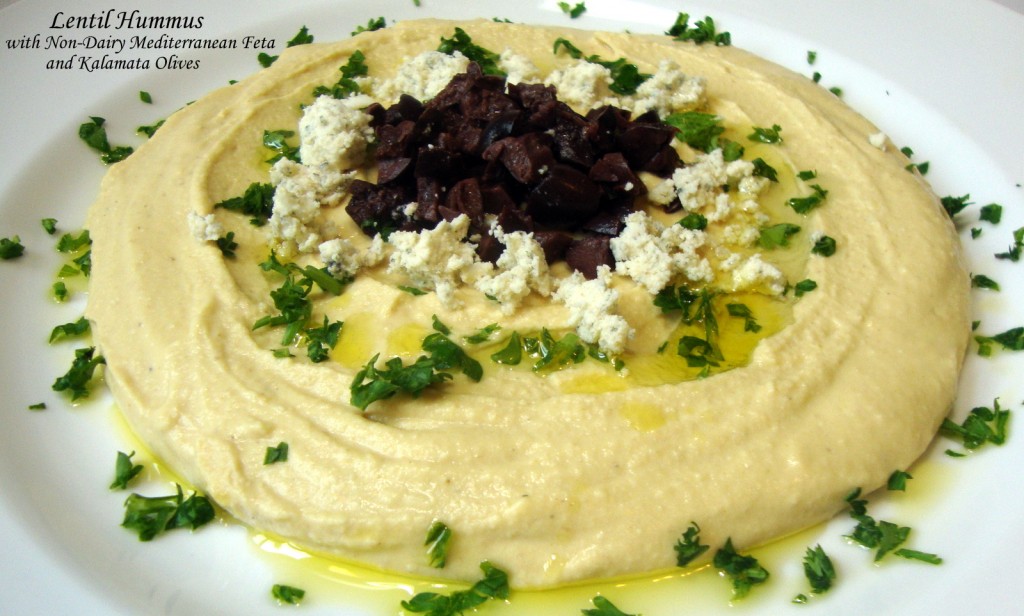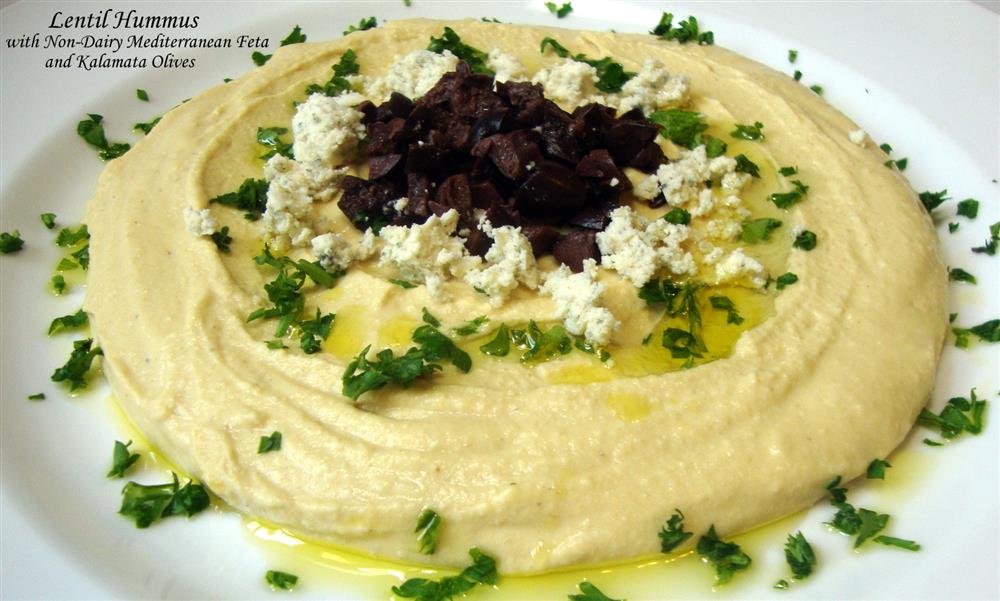 Hummus is a classic Middle Eastern dish and is excellent served as a dip or sandwich spread. This variation is made with cooked red or yellow lentils instead of the traditional chickpeas. It's smooth, creamy and delicious! Sweating the garlic prior to blending mellows the garlic flavor. Serve with warm or toasted pita or other flatbread, and/or crunchy fresh vegetables. This recipe yields about 2 cups.
Ingredients
• 1 cup dry red or yellow lentils
• 1 T extra-virgin olive oil, plus additional for garnish
• 3 medium cloves garlic, chopped
• ¼ cup sesame tahini
• 1 T fresh lemon juice, or more to taste
• 1 tsp ground cumin
• ½ tsp ground coriander
• ½ tsp fine sea salt or kosher salt, or more to taste
• ¼ tsp ground white pepper
• water sufficient for processing
• 1 T chopped fresh parsley for garnish
• other garnish(es) of your choice*
*Other garnishes might include but are not limited to: Non-dairy feta (from the Non-Dairy Evolution Cookbook); sweet or smoked paprika; powdered sumac; roasted or sautéed minced garlic; chopped roasted red peppers; dairy-free pesto; toasted pine nuts; chopped cilantro or basil.
Preparation
Sort through the dry lentils and remove any foreign matter. Rinse the lentils thoroughly in a sieve, drain and add to a medium cooking pot. Add 4 cups water and 1 teaspoon sea salt or kosher salt and bring to a boil. Stir the lentils, partially cover the pot, reduce the heat to a simmer and cook for 20 minutes or until tender. Drain the cooked lentils thoroughly in the sieve.
While the cooked lentils are draining, add 1 tablespoon olive oil to a small skillet and place over medium-low to low heat. Sweat the garlic about 10 minutes to mellow and sweeten the flavor and remove the raw pungency. If you hear an audible "sizzle" from the oil, the heat is too high; turn it down slightly.
Place the drained lentils into a blender or food processor and add the sautéed garlic and remaining ingredients except for the parsley and other optional garnishes. Process until very smooth. Add water as needed to assist processing. The hummus should be creamy and smooth, not thick and pasty.
Taste and add salt or more lemon juice as desired (lemon juice plays a supporting role in flavor development but the hummus should not have an obvious lemon flavor). Transfer to a bowl, cover and refrigerate for a minimum of 30 minutes to thicken and blend the flavors before serving, or for up to 1 week. The hummus will thicken a little bit upon refrigeration; if it becomes too thick after chilling, simply incorporate a little water.
Drizzle with extra-virgin olive oil and garnish as desired before serving.