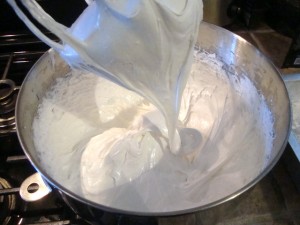 Yes, you heard correctly, sweet and gooey marshmallow creme without using egg whites. The secret ingredient to this deliciously spreadable confection is Versawhip 600K™, which is a modified form of soy protein. Versawhip 600K™ will need to be purchased through the internet and I recommend ModernistPantry.com as the source from which to order.
A stand mixer is REQUIRED for this recipe. The technique involves whipping molten hot sugar syrup, so do not attempt with a hand-held mixer or splattering can occur which can result in severe burns. Food processors, stand blenders or immersion blenders are not recommended for this recipe either as they will not work properly. So please don't try it. It is also recommended that the stand mixer be equipped with a splatter shield to prevent the sticky marshmallow mixture from splattering out of the mixing bowl.
You will also need a candy thermometer to determine when the molten sugar syrup has reached the proper temperature. Light corn syrup is also required for this recipe and due to the concern about GMO products, a non-GMO light corn syrup is available by searching on the internet. This recipe yields about 4 cups.
Ingredients for the sugar syrup:
• ¼ cup water
• ⅓ cup light corn syrup
• 1 cup organic sugar
• pinch of sea salt
Ingredients for the fluff:
• ¼ cup water
• 1 and ½ tsp Versawhip 600K™
• ¼ tsp guar gum or xanthan gum
• ½ tsp real vanilla extract
Technique:
Attach a candy thermometer to the side of a small saucepan. Be sure the base of the thermometer rests just above the bottom of the pan without touching the metal.
Add the water, corn syrup and then the sugar into the center of the mixture. Swirl gently and place over medium-high heat. Do not stir while the sugar mixture is heating. The mixture will need to be boiled and brought to the "soft-ball candy" stage or 240°F. This will take several minutes.
While the sugar syrup is boiling, add the water to the bottom of the mixer's bowl. Sprinkle in the Versawhip 600K™ and the guar gum or xanthan gum. Reserve the vanilla extract for later. Turn on the mixer and increase the speed to the highest setting. The mixture will whip into a voluminous white foam.
When the sugar syrup has reached 240°F, remove the saucepan from the heat and with the mixer running at high speed, pour the molten sugar syrup into the foam. Set a timer for 10 minutes while whipping at high speed. While the mixture is whipping, add the vanilla extract. That's all that is necessary to make marshmallow creme. Transfer the marshmallow creme to a container with a lid and refrigerate until ready to serve.