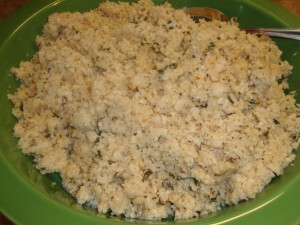 This light and fluffy couscous contains no grain. It is comprised entirely of cauliflower with a Mediterranean blend of herbs and spices. The dish can also be served raw; simply omit roasting. You will need a food processor to achieve the proper couscous texture from the cauliflower.
Ingredients:
• 1 head of cauliflower, cut into florets
• 2 T olive oil
• 2 T fresh lemon juice
• 4 T chopped fresh parsley (¼ cup) or 4 tsp dried parsley
• 2 to 3 cloves garlic, finely minced
• 1 tsp ground cumin
• ½ tsp ground coriander
• ½ tsp sea salt or kosher salt, or more to taste
• ½ tsp coarse ground black pepper, or more to taste
Technique:
Preheat the oven to 425°F.
Place about ¼ of the cauliflower florets into the food processor. Pulse until the florets are reduced to a grainy texture. Transfer the cauliflower "grain" to a large oven-proof skillet or a roasting pan. Repeat with the additional florets.
Add the remaining ingredients to the cauliflower and mix well to combine. Add additional salt and pepper to taste.
Place the skillet or roasting pan in the oven and roast for 25 to 30 minutes. After 10 minutes of cooking time, remove the skillet or pan and stir the mixture. Place back in the oven and continue to roast. Repeat stirring at the 20 minute mark.
After roasting, fluff the couscous with a fork and transfer to a serving dish. Serve immediately.
Mediterranean Cauliflower Couscous