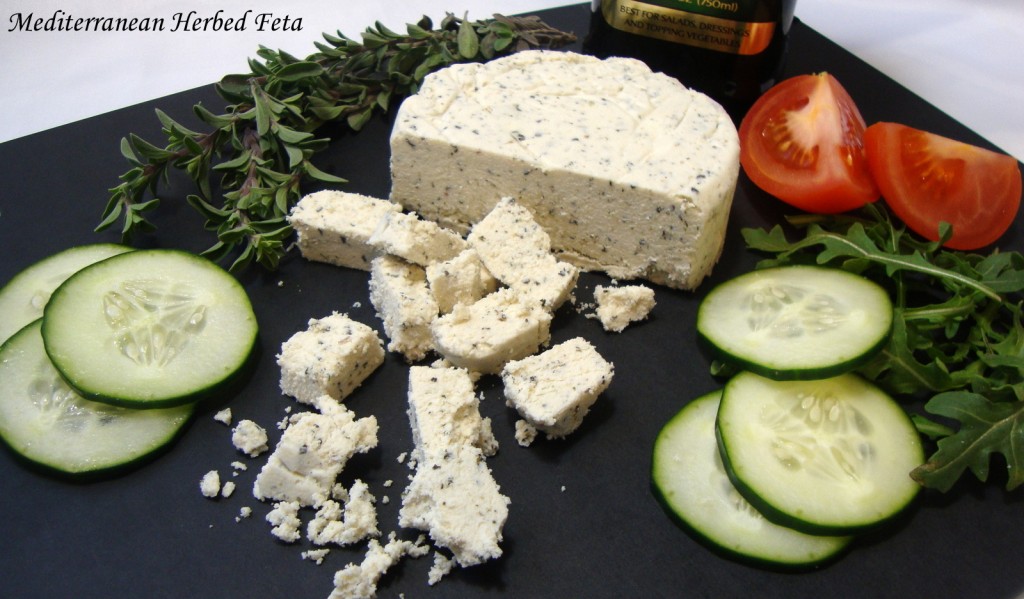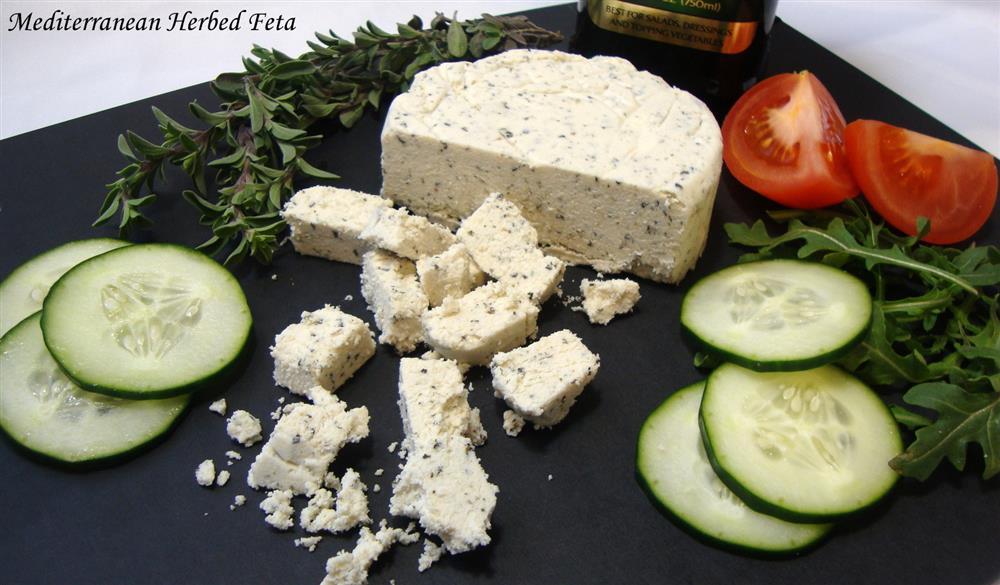 This tofu-based cheese is simple to make and is reminiscent of dairy feta cheese in both taste and texture. It has a very tangy, salty flavor and is wonderful for topping Mediterranean salads, pizza or for using in recipes such as Greek Spanakopita.
A food processor is recommended for efficient processing. You will also need a silicone, glass, ceramic, metal or BPA-free plastic container that will hold a minimum of 2 cups liquid to act as a form to shape the cheese. Line the form with plastic wrap, leaving plenty of excess hanging over the sides. This will help lift the cheese from the form after firming. This recipe yields about 8 ounces.
Ingredients
• ½ block (about 7 oz before pressing) extra-firm tofu (not silken tofu)
• ¼ cup refined coconut oil (not virgin)
• 1 tsp lactic acid powder (recommended and available from ModernistPantry.com) or 4 tsp fresh lemon juice
• 1 T white wine vinegar or raw apple cider vinegar
• 1 and ¼ tsp fine sea salt or kosher salt
• 1 tsp dried basil
• 1 tsp dried marjoram
• 1 tsp dried oregano
• ¼ tsp onion powder
Note: The basil, marjoram and oregano are optional; omit if plain feta is desired.
Preparation
Line the form with plastic wrap or a double-layer of cheesecloth, allowing some excess to hang over the sides. This will help lift the cheese from the container after firming.
Press the tofu until it is not releasing any more liquid. It is important that the tofu be as dry as possible. To do this easily and efficiently, wrap the tofu in a lint-free kitchen towel or several layers of paper towels and place on a flat work surface. Press down firmly with your hands while using your upper body weight. Crumble the tofu into a food processor and set aside.
Remove the lid from the coconut oil and place the jar or bottle into a microwave. Heat until melted (about 30 seconds to 1 minute depending upon the solidity of the coconut oil); avoid overheating the oil. Alternately, place the jar or bottle into a container filled with near boiling water and let stand until the oil melts. Measure ¼ cup and add to the food processor with the remaining ingredients. Process the contents until very smooth.
Transfer the cheese mixture to the lined form. Pack the mixture with the back of a spoon and smooth the surface as best you can. Cover with plastic wrap and refrigerate for a minimum of 8 hours. This will ensure that the coconut oil has completely solidified. Once firmed, lift the cheese from the container and crumble as needed.
When using as a topping for salads, toss the salad first with the dressing and then add the crumbles. Cubed feta is wonderful drizzled with olive oil and served with falafel and other Mediterranean favorites. Store in a zip-lock bag or wrapped tightly in plastic wrap in the refrigerator.

Mediterranean Herbed Feta (From the Non-Dairy Evolution Cookbook)