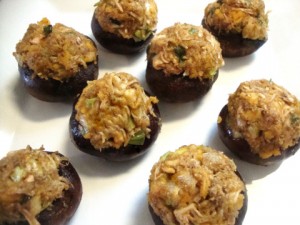 Large mushrooms are filled with a zesty mock crab filling, green onions and shredded cheese and baked to perfection. These mushrooms make a wonderful first course or light entrée.
Ingredients:
• 1 cup flaked green jack fruit or hearts of palm (see notes below)
• 8 baby portabella mushrooms or large white mushrooms (about 2" in diameter)
• 5 green onions, white and green parts, chopped (about ⅓ packed cup)
• 1 T vegetable oil
• 1 tsp Old Bay™ or Chesapeake Bay™ seasoning
• ½ tsp kelp powder
• 2 T fine, dry, plain breadcrumbs
• 2 T No-Eggy Mayo (from my cookbooks) or commercial vegan mayonnaise
• ½ cup shredded vegan cheese that melts (I recommend the soymilk-based block cheeses from The Non-Dairy Formulary)
Notes: For this recipe, you will need 1 can (about 17. oz.) of green jackfruit. Canned green jackfruit has no real flavor of its own, but has an uncanny resemblance to shredded crab when cooked. It can be found in Indian and Asian markets or purchased through the internet. Look for the label "Green Jackfruit" or "Young Green Jackfruit" and be sure that it's packed in water or brine (preferably water) and not syrup. You may notice cans of ripe jackfruit packed in syrup stocked nearby but don't be tempted to substitute as it will be too sweet.
If you cannot locate jackfruit, try substituting with 1 can of hearts of palm. Canned hearts of palm can be found in most supermarkets. While not exactly the same texture as jackfruit, they will flake nicely in a food processor and will serve the purpose for this recipe. Hearts of palm have a tangier, acidic flavor, whereas jackfruit is more neutral. Please note that hearts of palm is commercially grown and harvested in Central America and Hawaii and has absolutely no relation to the palm species from which palm oil is derived.
Technique:
Drain the liquid from the can of jackfruit or hearts of palm and rinse thoroughly. Drain in a colander. If using jackfruit, remove the tough core from each chunk of jackfruit with a sharp knife and discard. Break the chunks apart with your fingers and remove the soft seeds and discard. If using hearts of palm, simply slice the hearts about ¼-inch thick. Wrap the jackfruit or hearts of palm in a lint-free kitchen towel or several layers of cheesecloth and squeeze to remove as much water as possible.
Place the jackfruit or hearts of palm in a food processor and pulse a few times to flake. Do not purée! You will need about 1 packed cup for this recipe; a little more or less is fine as the measurement doesn't need to be exact (if you have extra hearts of palm, try adding the flakes to salads, since hearts of palm do not need to be cooked to be consumed). Set aside the flakes in a mixing bowl.
Preheat the oven to 350°F.
Add the vegetable oil to a skillet and place over medium heat. Add the green onions and sauté for 1 minute. Add the flaked jackfruit or hearts of palm and sauté an additional 2 minutes. Stir in the Old Bay™ or Chesapeake Bay™ seasoning and the kelp powder and return to the mixing bowl.
Add the breadcrumbs, mayo and shredded cheese and stir thoroughly until combined. Pack the mushrooms with the mock crab mixture.
Lightly spray a baking sheet with vegetable oil and place the mushrooms on the baking sheet. Bake for 20 minutes. Serve immediately.

Mock Crab Stuffed Mushrooms