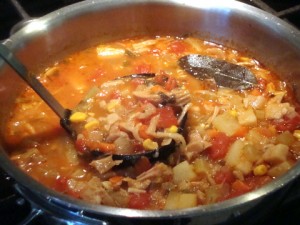 Mock seafood chowder is essentially a hearty vegetable soup with the addition of special ingredients that mimic the textures of seafood. The flavor can be likened to a spicy minestrone. For less spiciness, reduce the Old Bay™ seasoning and omit the cayenne pepper. The chowder has no real seafood flavor of its own but this flavor can easily be added by including some dried seaweed of your choice, to taste. If you prefer this seafood flavor but others in your household don't, consider garnishing individual servings with the seaweed.•
Ingredients:
• 1 can (about 17 oz.) green jackfruit in water or brine*
• 1 can (15 oz.) oyster mushrooms*
• 2 T olive oil
• 1 medium onion, diced
• 2 ribs celery, diced
• 1 carrot, diced
• 2 cloves garlic, crushed and minced (2 tsp minced)
• 4 cups vegetable broth
• 1 can (15 oz.) diced tomatoes with liquid
• ½ lb. potatoes, peeled and ½-inch diced
(i.e., 1 average-size russet potato)
• ½ cup fresh corn kernels (1 ear of corn) or canned corn kernels
• ½ cup loosely-packed chopped Italian parsley
• 1 bay leaf
• 2 tsp Old Bay™ or Chesapeake Bay™ seasoning
• optional: pinch of cayenne pepper
• sea salt or kosher salt and coarse ground black pepper to taste
* Canned green jackfruit has no real flavor of its own, but has an uncanny resemblance to shredded crab when cooked. It can be found in Indian and Asian markets or purchased through the internet. Look for the label "Green Jackfruit" or "Young Green Jackfruit" and be sure that it's packed in water or brine (preferably water) and not syrup. You may notice cans of ripe jackfruit packed in syrup stocked nearby but don't be tempted to substitute as it will be too sweet.
Canned oyster mushrooms can be found in Asian markets and are very inexpensive (a dollar or two per can) compared to their fresh counterparts, which are sometimes found in farmer's markets or specialty food stores. However, fresh oyster mushrooms can be used if you prefer.
Technique:
Drain the liquid from the can of jackfruit and rinse the fruit thoroughly (especially if it was packed in brine) and drain in a colander. With a sharp knife, remove the tough core from each chunk of jackfruit and discard. Break the chunks apart with your fingers and remove the soft seeds and discard. Wrap the stringy pulp in a paper towel or clean kitchen towel and squeeze to remove any excess remaining water. Place the jackfruit in a food processor and pulse a few times to shred. Do not purée! Set aside in a bowl.
Drain the oyster mushrooms and remove any tough stems. Slice half of the mushrooms into strips and dice the remaining half. Set aside in the bowl with the jackfruit.
In a large soup, add the olive oil and place over medium heat. Sauté the onions, celery and carrots until the onions are translucent. Add the garlic, jackfruit and oyster mushrooms and sauté and additional minute or two.
Add the vegetable broth, tomatoes with liquid, potatoes, corn, parsley, bay leaf, Old Bay™ or Chesapeake Bay™ seasoning and cayenne pepper and bring to a rapid simmer. Reduce the heat to low, cover the pot and cook for about 1 hour or until the vegetables are very tender.
Season the chowder with salt and pepper taste, as desired. Remove the bay leaf before serving.