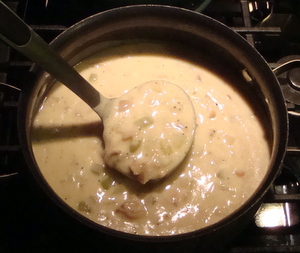 Tender diced potatoes, celery, onions and oyster mushrooms are combined together in this creamy and satisfying chowder. Canned oyster mushrooms can be found in Asian markets and are very inexpensive.
Ingredients:
• 3 T Better Butter (from The Non-Dairy Formulary or The Gentle Chef Cookbook) or commercial vegan margarine
• 1 large onion, diced
• 2 large ribs celery, diced
• 1 clove garlic, minced
• 1 can (about 7.5 oz. drained weight) oyster mushrooms, drained, tough stems removed and diced
• ¼ cup all-purpose flour
• 4 cups chik'n broth (see The Gentle Chef Cookbook for broth options) or vegetable broth
• 2 russet potatoes, peeled and diced into ½-inch cubes
• 2 bay leaves
• ½ tsp coarse ground black pepper, or to taste
• sea salt or kosher salt as needed
• 1 cup heavy cream (from The Non-Dairy Formulary) or commercial vegan cream substitute
Technique:
In a large soup pot, melt the butter or margarine over medium heat. Add the onions and celery and sauté until the onions are translucent. Add the mushrooms and garlic and sauté an additional minute.
Sprinkle in the flour and stir thoroughly to distribute.
Slowly whisk in the broth. Add the potatoes, bay leaves and black pepper. Bring the chowder to a simmer and then reduce heat to medium-low. Partially cover the pot and cook about 30 minutes, stirring occasionally, or until the potatoes are tender. Season with salt if needed and add additional pepper if desired.
Stir in the heavy cream and cook and additional minute or two. Serve.
New England "Clam" Chowdah